When we wrote our Hot Topics of 2020: what you told us blog, I don't think we thought we'd write another blog post with a similar opening sentence: 2021 is another year we'll definitely never forget. At least this time around, everyone hopefully has been more prepared for the unexpected.
Whilst we've experienced lockdowns throughout the world at varying degrees, we've seen fewer shutdowns this year as we all learn to live in new norm with global supply chain interruptions being the big headline of the year. However, businesses have continued to find innovative and collaborative ways to carry on and even thrive. We've seen many companies continue to invest in the future as material testing continues to play a vital role in managing quality, compliance and reducing waste. This year has been less about survival mode and more about yield.
When we look at our most read content this year, very similar themes emerge as last year where making the right choice plays a very important role in overall business performance.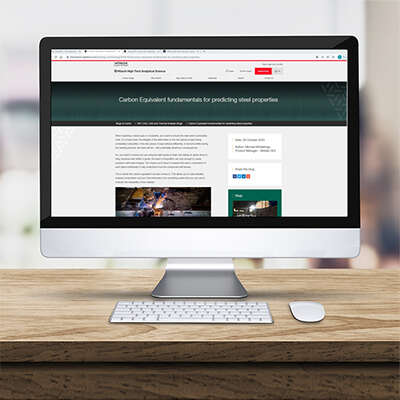 1. Making the right choice
When it comes to material analysis, there's a lot choice out there not just in terms of manufacturers but also the technologies you can choose from. In uncertain times it's reasonable to really do your due diligence to make sure you are making the right investment. You may also need to think about complementary techniques as different instruments suit different processes better.
Our technology articles and videos on feature in our top 10 every year and retain their popularity:
What is OES?
What is LIBS?
What is XRF?
2. Improving knowledge
We're seeing more and more people engage with the content our experts have created to help you understand some of the fundamentals around spectroscopy and material analysis starting with how to evaluate accuracy and calculate the error margin of spectroscopy measurements.
Our search for true values series has been popular this year to helping people gain confidence in spectroscopy results:
What causes spectroscopy measurement errors and how to reduce them
How to calculate measurement uncertainty according to gum?
How to calculate measurement uncertainty when you don't have a reference sample

Equally, content created by our experts to help you understand some of the basics has also proved popular as we know there are many companies still who are thinking whether they should invest in materials analyzers. There's never a right or wrong time, but with the right analyzer, you can help to increase yield.
Here's a selection of some our most popular articles from this year:
What is PMI and why is it so important?
The effects of boron on carbon steel
Carbon equivalent fundamentals for predicting steel properties
Using DSC to rest the reliability of components made from polypropylene
Elemental analysis of crude oil with XRF


3. Electrification of road transport and coping with semiconductor shortage
2021 saw the highest sales of electric vehicles (EVs) to date as environmental concerns about fossil fuel usage rose. Electric vehicles rely not just on technology powered by semiconductors, but on battery technology which is becoming more advanced and making electric vehicles an ever more viable option for drivers. With more giga factories being built to cope with demand, to manufacture lithium-ion batteries, we're seeing more companies look for innovate solutions to help manage the end-to-end manufacturing QA/QC from incoming goods, defect identification to production control. And not just for lithium-ion batteries but for all car parts.
Not helped by the increased need in the automotive sector, semiconductors have seen a demand never experienced before driven also by high growth in 5G deployment, smart home, wearables, and home entertainment (especially as the pandemic continues to push people to stay at home whether for socialising or working). This has had significant impact on supply chains, which need to deliver more connected products but with restricted workforces and capacity. With chips being complex to build, ensuring that production has the quality before the extended shut-down means making investments to ensure component quality to ensure maximized yield to meet demand.
Read more about these topics in:
How we can help battery manufacturers retain quality, safety and reliability
FT160 is helping to tackle the issue of semiconductor demand outstripping supply
4. Regulations and specifications
Many industries are regulated or need to comply with regulations. The PHMSA 'Mega Rule' is the big new regulation that will come into effect May 16, 2022. Whilst it's an Americas-specific regulation, we had a lot of interest in our webinars in Asia as well on this topic – the rest of the world is watching and preparing for what may soon come their way.
The IPC standards help to deliver quality, reliability and consistency in electronics manufacturing. The latest revisions to the IPC specifications such as IPC-4552B impose stringent measurement controls and detail the calibration methods to meet the performance requirements. Our article helps to explain what to keep in mind when using XRF to achieve consistency and reliability in production to meet the specification. Our IPC related articles, and the 2020 IPC Guide help businesses get their heads around the specifications.
5. Making Money
That's what most businesses want to do and after a tough year for some, the rise in making the most out of jewellery, precious metals and platinum group (PGM) metals has been huge this year. This means investing in the right XRF testing equipment to make sure you're able to make the most of the current boom.
You might be interested in reading these articles:
Using handheld XRF to recycle precious metals in catalytic converters
Ensuring true value of gold investment with XRF analysis
But it's also making sure that you have correct processes in place to reduce waste and gain efficiencies. You might also be interested in this popular content:
How much is your melt correction process costing you?
How the RealView camera system delivers visibly better thermal analysis
Why your support plan is critical part of your XRF equipment purchase
If you are looking to invest in a new materials analyzer in the new year, why not get in touch with our experts for an informal discussion?
Get in touch
---
Share this blog