Detailed environmental screening of large areas of land is the essential first step for many projects. However, waiting on lab results for in-situ soil screening, ex-situ soil analysis or remediation can effectively bring work to a halt. Using handheld XRF (X-ray fluorescence) on-site enables you to carry out high volumes of soil analyses and complete XRF testing programs quickly, reducing the need for laboratory analysis and their associate costs.
The X-MET8000 Expert Geo handheld XRF analyzer from Hitachi delivers true lab-grade analytical data immediately on-site. Easy sample preparation and accurate analysis results, even if samples are bagged or prepared for more homogenized results, for up to 40 elements (from Mg to U) delivered in seconds. The non-destructive XRF soil analyzer delivers low limits of detection needed for toxic metals and critical elements, including all 26 elements listed in the U.S. EPA Method 6200 and the eight Resource Conservation and Recovery Act (RCRA) metals in a single analysis.
The X-MET comes complete with integrated GPS, allowing you to combine geolocation data with soil analysis results for accurate mapping across the whole site.
Download the brochure
For more details on the analysis capabilities of the X-MET8000 Geo for environmental soil analysis, download the brochure.
Download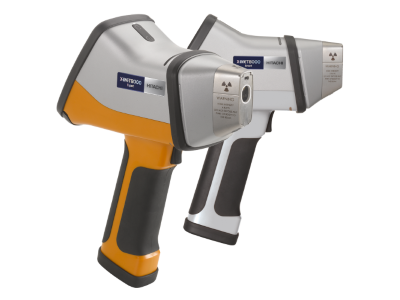 Hitachi X-MET8000 Geo for environmental screening
The X-MET8000 Geo weighs only 1.5kg and is about the size and shape of an electric drill. It comes with soil calibration included and is ready to use right out of the box. It's IP54 compliant for protection against dust and splash water and is tested to the MIL-STD-810G standard for robustness, so you can take it into the field without worrying about damage. With a battery life of up to 12 hours, you can get all the results you need even when your testing site is miles from the nearest charging point.
You can choose from two models, the Optimum Geo and the Expert Geo, depending on whether you need to measure geochemical samples such as REEs, light elements and pathfinders.
Find out more