Controlling the melting process by verifying melt chemistry is essential to ensure the melt is meeting the specification limits of the grade to be cast. Spark optical emission spectroscopy has been established as the optimum method within foundries for this task. Today foundries are under enormous pressure to reduce costs. Simplifying the charging process – including the melt correction method – is an effective way to cut costs. However, smart resource management and increased use of low-cost scrap and other casting sources can make charge correction complicated, costly and time-consuming.
Does your melt make the grade?
Having analyzed your melt, how do you compare the results with grade specifications? Possibly you are manually comparing your melt analysis results to a published grade table. This process can cost you time and even deliver you erroneous results. A better way is to use Hitachi's GRADE Database. As the most comprehensive database available in the world today, referencing the GRADE Database gives you the information you need in an instant.
If your melt matches the specification, then you're fine. But what if it doesn't? The next big question is: how do you calculate what additional materials need to be added to the melt to bring it into line with grade specifications?
There are several ways of doing this: You can use either trial and error and rely on your previous experience. Or you can run through some manual calculations using spreadsheets or diagrams. With these methods, you can't be sure about correcting the melt faultlessly. Unfortunately, if you have to run the whole test-correct-test process over, it can be costly and will delay the production line. The most efficient way to apply a charge correction process is to get it the right from the first melt run – and that is exactly what charge correction software is delivering.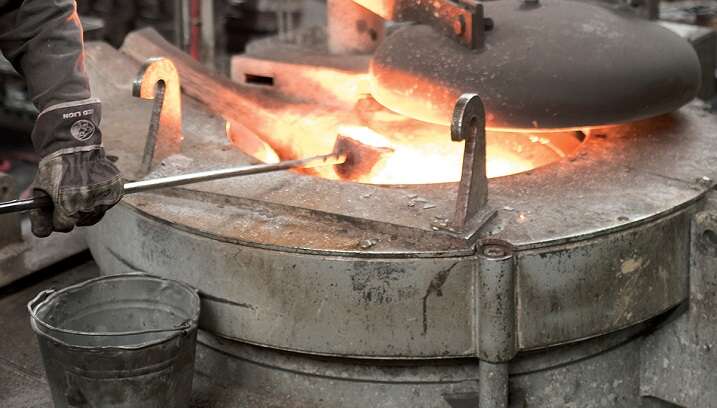 Cost-saving with charge correction software versus manual correction
Let's look at an example of the extra costs incurred when manual charge correction processes are applied. To keep our numbers conservative, we'll focus on a modest facility. You might be surprised to learn that a small steel cast foundry with a single 1-ton capacity induction furnace can save over 20,000€ per year, taking into consideration energy and labor costs alone. And the time saved will be enough to run an additional batch, making the financial picture even more attractive. Larger facilities can expect to save much more costs and resources.
These are the savings that can be made when using our GRADE Database in line with AdjCalc charge correction software. For a detailed demonstration of how these are used to save you time and money, watch the webinar on demand.
In this 16-minute video, our product manager for OES, Wilhelm Sanders, takes you through the charge correction process step by step and shows a detailed calculation example.
Get in touch
---
Share this blog