When faced with fragile and irreplaceable historic artifacts that need thorough analysis for conservation or curation, careful handling is essential. This is where the completely non-destructive nature of XRF (X-ray fluorescence) technology can be a powerful tool for conservation labs, museums, art forensics, research institutes and universities.
Watch the team at New York Art Forensics explain why Hitachi handheld XRF is the best they've ever worked with:
Hitachi High-Tech's handheld XRF analyzer, the X-MET8000, has replaced external lab-based testing for many of our customers. It has been used to determine whether a Pollock painting was authentic by identifying components of pigments without removing it from frame, on-site in WW2 excavations thanks to its ability to perform in-situ soil testing for archeological reconnaissance surveys.
It's been used to support the conservation of the Mary Rose and by world-class museums, such as the Ashmolean in Oxford, UK and Ningbo Museum in China, to restore, verify, authenticate and conserve art and artifacts by their elemental composition for the future. This includes identifying glazes and how objects have been preserved in the past without having to remove items from their display cases.
The powerful and safe analysis capability of the X-MET means it can answer fundamental questions on identification and dating and determine whether any restoration has previously taken place. It can help to decide the best method of restoration by identifying the presence of corrosive materials and check the effectiveness of restoration programs already underway.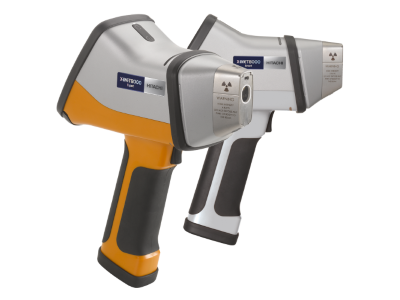 Hitachi X-MET8000 for Archaeometry, Conservation and Art
The non-destructive portable X-MET8000 weighs only 1.5kg and is the size of an electric drill. To use, you simply place the instrument against the area you need to analyze and press the trigger. Full compositional results are displayed immediately on the display screen. The advanced software contained within the X-MET means that it can be used for identifying unknown samples – a common scenario when dealing with historical artefacts.