When crude oil arrives at a refinery it needs a lot of processing before it's suitable for cracking into lighter fractions. Sulfur has to be extracted to meet ultra-low sulfur legislation for most of the fuel grades, and desalination is a crucial process as chlorine within salts is corrosive to refinery equipment. Measuring the amounts of sulfur and chlorine within crude oil is the first step in a complex clean-up process.
Heavy metals, such as vanadium, nickel and iron need to be removed too. These metals can poison the catalyst used to crack the oil into lighter fractions. This is costly as it reduces the useful life of the catalyst. Like chlorine, heavy metals also have a corrosive effect on the plant. There is some evidence that the presence of some metals in the final product can reduce performance.
The impurity levels in crude oil depend on where in the world the oil has been extracted, and the type of environment; for example, marine-derived oil has different levels of trace elements than non-marine oil. For example, the vanadium content in crude oil can vary from 40 to 130 ppm[1] depending on where it has been sourced. As crude oil becomes harder to extract, new environments will need to be investigated and impurity levels could become more difficult to predict.
Elemental analysis of crude oil throughout the clean-up process is essential to make sure the derived oils meet stringent specifications and to reduce the corrosive effect of the oil on the refinery equipment.
[1] Ortega, 2013; Qasim Mohammed, 2017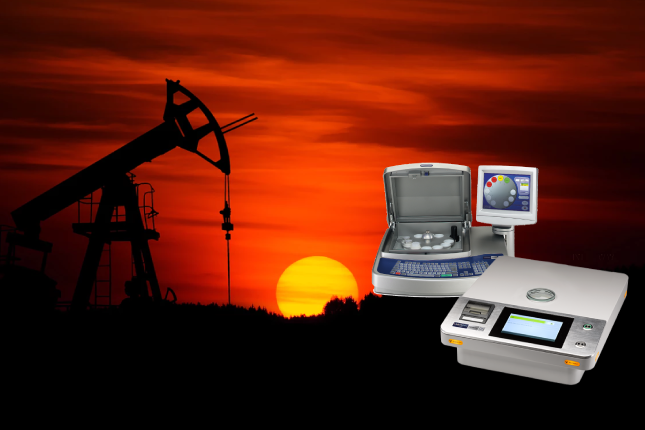 Conforming to industry standards with Hitachi's XRF analysers
X-Ray Fluorescence (XRF) analysis is the method of choice for checking contents of sulfur, chlorine and trace elements in crude oil. Our range of benchtop analysers are easy to use, and provide rapid analysis for sulfur from ppm to high percentages in crude oil and lighter fractions
Benchtop analysers: X-Supreme8000 and LAB-X5000
Our range of benchtop analysers make in-house testing easy and cost-effective. Many of our customers have come to rely on our analysers for testing fuel oils, with analysers being used by production staff round the clock. Rugged and robust in design, yet with the high performance needed to deliver the accuracy and precision needed to meet tight specification limits, our benchtop analysers provide fast analysis needed in a busy production facility.
They also support results traceability and compliance; data for each measurement is automatically stored in the analyser. Some analysers come with integration to our cloud-based data management solution: ExTOPE Connect. This provides automatic storage of results and is accessible from any computer. Reliable, accurate and designed for a production workflow, our benchtop analysers help you stay in control of your processes and meet tight specifications for petrochemical products.
The X-Supreme8000 and LAB-X5000 benchtop analysers have been used in many refinery laboratories and petrochemical test labs and will help you conform to the following:
ASTM D4294: Standard Test Method for Sulfur in Petroleum and Petroleum Products by Energy Dispersive X-ray Fluorescence Spectrometry
ISO 8754: Petroleum products — determination of sulfur content — Energy-dispersive X-ray fluorescence spectrometry
IP 336: Petroleum products - Determination of sulfur content - Energy-dispersive-X-ray fluorescence method
EPA 9075: Test Method for Total Chlorine in New and Used Petroleum Products by X-Ray Fluorescence Spectrometry
ASTM D4929: Standard Test Method for Determination of Organic Chloride Content in Crude Oil
---
If you want to know more about XRF analysis of petroleum products, please get in touch with one of our experts:
Find out more
You can find out more information on our benchtop analyser range here:
LAB-X and X-Supreme ranges
---
Share this blog