Matt Kreiner is the product manager for our coatings analysis product line. In his role, he focuses globally on Hitachi's coatings customers, across numerous industries, to find new solutions to the challenges they face in their everyday work environment. With 19 years of experience working with XRF technology, he has held many different roles within the organization.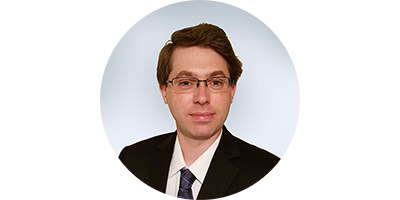 His latest achievement has been the launch of the FT230, our newest XRF coatings analyzer. So we thought we'd ask him some questions, not just about how he became product manager for our coatings instruments but also how the FT230 came about and what you really need to know about our latest innovation for the coatings market.
Q: When did you first work with coatings products?
My first job after graduating from Northwestern University with a degree in chemical engineering was with a company that designed and manufactured XRF and electromagnetic thickness gauges; that division later became Hitachi High-Tech Analytical Science.
One of my first responsibilities was testing a new temperature compensation feature for one of our XRFs for coatings analysis. It was interesting work, and I learned a lot. But it wasn't glamorous. We didn't have proper facilities for that work, so I spent a lot of my time working on equipment that was set up in a makeshift environmental chamber – a bathroom packed with heating and cooling equipment. It was effective, but I'm happy to say we've greatly improved our facilities since then.
Q: What other roles have you had since then?
I came up as an applications engineer working with benchtop and handheld EDXRF, WDXRF, electromagnetic thickness gauges, optical emission (OES) and spectral reflectance. I managed the applications lab and our inside sales department, held responsibility for key account management and business development, and managed our Latin American business before coming back to the coatings products full-time nearly ten years ago.
Q: What do you enjoy most about the coating industry?
I think the average person doesn't realize how much of the world around them is made up of coated materials.
I've always enjoyed taking things apart to figure out how they work and understand how the individual pieces interact. It's incredibly fun and satisfying to be able to work with manufacturers who make tiny and huge components that are assembled into products that are immediately recognizable.
I get to see how the intricate machines are made and I get to learn from the people running the production lines as well as the engineers who design them. It's a rightfully demanding industry since coated parts are counted on for mission critical and essential devices that need to be reliable. It's wonderful to help them solve their problems.
Q: Why was the FT230 created?
The FT230 is a chance to draw a line in the sand. Behind us are the traditional ways of using XRF for coatings, and in front of us is the new direction. Our customers – as well as people who use equipment from other providers – are looking for ways to simplify operation and increase testing volumes.
Everyone is under pressure to do more with less, and that includes making more product and ensuring higher quality with less staff that may not have expertise in XRF. There are a couple of ways we saw to do this.
One was to look to better analytical components, and we've utilized that with latest-generation detector and signal processing technology. That helps, but we found that the aspect of XRF testing that took the most time wasn't the actual analysis, it was setting up the measurement routine for the part.
Operators walk up to the XRF holding a part that needs to be measured, they look at the software and have to make a lot of decisions, e.g. how to position the part, where to take measurements, what calibration should be used, what working distance is appropriate, how long of a measurement is good enough, etc.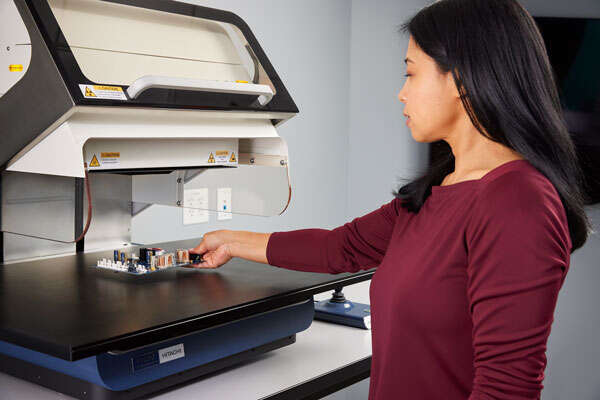 We knew if we could reduce those decisions and automate the measurement routine, we could get operators on and off the XRF quicker, save a lot of time and avoid mistakes at each of those decision points.
Q: How was the FT230 developed?
Before we had any features designed, we conducted the largest voice of customer (VoC) exercise that we've ever done for a coatings project. We visited plating shops around the world with the R&D and design teams, asked questions and just listened to what users wanted and needed.
We took all of those inputs, along with feedback we've collected over decades of experience with the industry and created our vision of a product that would address those wants and needs. The project team is based in our XRF technology centre in Espoo, Finland and is supported by our global team.
The team designed the internal electronics and mechanics, the look of the instrument and the software. Every aspect of the product has been tested, improved, validated with user feedback, and iterated to create the best user experience on the market.
You can check it out here in the product video:
Q: What excites you most about the FT230?
I have personally had several "Wow!" moments with the project during its development. The look and feel of the software is completely inverted from what's on the market today, including our own products.
We've focused on making life easier for operators and shortening the analysis path from unknown to fully quantified so production lines can be monitored and adjusted much more efficiently. Instead of a screen cluttered with controls and settings crammed next to the camera view and results display, we've made the camera view the largest focal point of the software, followed by the results pane.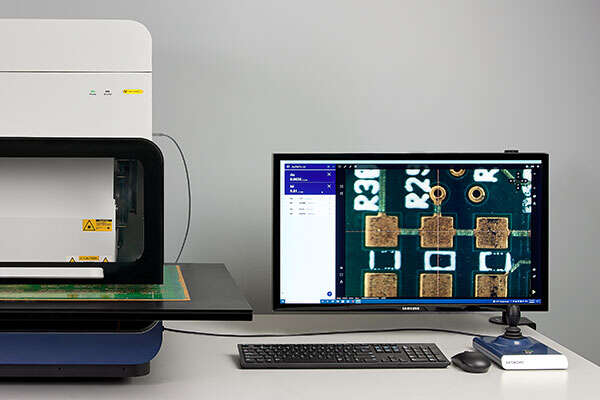 The clarity of the camera, aided by the improved LED lighting that is adjustable by rings, wedge segments and individuals LEDs, is impressive. And the results pane is large, sharp and easy to read, with each result card expandable to show even more details of the measurements.
The Find My PartTM routine is incredible. Using machine vision, the FT230 makes quick work of the lengthiest and most challenging aspect of XRF measurement – setting up a measurement. Initial feedback from customers has been incredibly positive, and I enjoy watching people react to the instrument.
The data handling capabilities are ready for Industry 4.0. You can instantly get results to where you need them with FT Connect. The results can be exported in spreadsheet or comprehensive JSON format for integration with SCADA, QMS, MES or ERP systems. Customized reports can similarly be created for internal or external customers. Diagnostics data can be shared directly with Hitachi's technical support team over ExTOPE Connect, Hitachi's cloud-based solution.
Our launch event, which you can watch on-demand, goes into detail about each of these features:
Q: Where does the FT230 fit in with the rest of Hitachi's coatings solutions?
Hitachi has a range of XRFs for coatings analysis, including models like the X-Strata920 and FT160 which are purpose-built for the coatings market, and our handheld X-MET8000 which measures coatings and materials including metal alloys. In both feature set and pricing, the FT230 sits between our basic X-Strata920 and our high-end FT160, that includes capillary optics for measuring nanometer-scale coatings on features smaller than 50 µm.
The FT230 is our first product running the new FT Connect software, so it has some new features that aren't present on any of our other products. Beyond XRF, Hitachi has a line of electromagnetic gauges for measuring the thickness of paint, anodizing and PCB copper for both surface and thru-hole technologies.
Q: Why should people choose Hitachi for coatings analysis products?
Hitachi's coatings products are incredibly capable, reliable and easy to use. We have solutions for measuring simple coatings on flat parts and complex coatings on parts with varying geometry, and we have products for measuring the thinnest coatings on tiny features. Having products is only one part of the equation though.
We have a global team of technical support and applications experts that is eager to work with our customers to tackle their challenges today and as new ones come up. Our customers also value the fact that coatings analysis is just one issue that Hitachi can address. They will have access to all that Hitachi has to offer – thermal analysis equipment for physical properties testing, scanning electron microscopy for fundamental evaluations and failure analysis, equipment for analyzing contaminants in plating baths and many more instruments and services.
Q: What changes do you see happening in the market?
Platers are seeing the same pressures, regardless of the markets they serve. Automation or Industry 4.0 is here and growing, as is the need for 100% inspection to drive down operating costs, increase production volumes and decrease failure rates.
Automation has been embraced by the coating industry for a long time, but quality control testing is frequently left out of the integration. That's going to be changing as the higher production speeds won't allow time for offline testing. Demand in the electronics market is outpacing supply, and that situation is expected to continue as more devices are electrified, automobiles become more autonomous, and 5G technology is deployed and fully implemented.
5G may require some fundamental changes to final finishes used by PCB manufacturers to allow devices to operate at the higher frequency bands available to 5G. The metal finishing industry is under pressure from environmental concerns to replace certain coatings that have long been the stalwarts of the plating industry.
Q: What's Hitachi doing to support those changes?
The FT230 is on the leading edge of changes we're making to our products to better support the industry. We're finding ways to shorten total measurement times to help with 100% inspection, connect to ERP, MES, QMS and SCADA systems to be ready for integration of hardware and data and design software that can quickly adjust for new coating applications.
It's an exciting time in the industry and we're thrilled to partner with our customers to tackle these challenges together.
Find out more
---
Share this blog