The automotive industry has always had one of the most rigorous testing procedures to achieve excellence in engineering, safety, and comfort for the end-user. Whether car manufacturers or the original equipment manufacturers (OEM), the entire supply chain in the automotive industry aims for zero defects throughout the manufacturing cycle to increase yield but also to ensure that the final product is devoid of any liabilities.
We've been working with a global tier 1 Japanese manufacturer of powertrain, mobility, electronic systems to the automotive industry. This global company has been developing and manufacturing automotive components and parts for over 70 years in more than 35 countries. As a highly reputed brand, paramount importance is placed on quality and safety of their products.
The company mainly uses ADC (aluminum-alloy die casting) series. ADC12 (Japan aluminum alloy casting material) or A383 (American aluminum alloy code) is the preferred metal alloy for many die castings due to its properties: higher strength, excellent thermal and electrical conductivity, cutting performance, cost-efficiency, and resistance to cracking, corrosion and oxidation.
To ensure quality at every stage of the manufacturing process, this customer invested in Hitachi's complementary elemental analysis techniques, optical emission spectrometry (OES) and X-ray fluorescence (XRF), to increase their yield and reduce material waste in just one year. Here's what instruments they chose and why.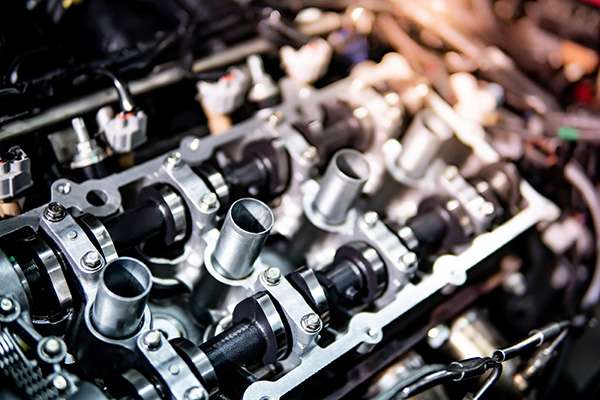 Ensuring high-quality incoming raw materials with the FOUNDRY-MASTER Smart
Natural resources are getting scarcer with most manufacturers working towards circular economy by sourcing recycled raw materials whilst focusing on reducing, reusing, and recycling to be more economically and environmentally conscious.
Our customer uses scrap metal sources to produce secondary aluminum ingots. Our stationary spark OES spectrometer, FOUNDRY-MASTER Smart, is used to ensure the correct chemical composition of ingots as per the required melt recipe. The raw materials also need to comply with local and international industry standards. Quality control is a crucial requirement within the company which ensures safety of their components before deploying into the automotive industry.
The compact FOUNDRY-MASTER Smart occupies a small space on a benchtop with high analytical performance from powerful patented optics. With rapid start-up and measurement time, it couldn't be easier to use and supports high throughput production.
The customer was pleased with the high-level analysis to verify the incoming raw materials. The operators can use this instrument with minimal training and understand the easy-to-read results, so that only good quality aluminum ingots progress into the production processes and costly reworks are avoided.
Improving production yield with the OE750
As we move into the production line, the customer needed a comprehensive alloy matrix integration for analyzing their die cast materials. Our ground-breaking OES metals analyzer OE750 was the instrument of choice amongst the available alternatives in the market.
The OE750 has a modern design, CMOS technology and the latest SpArcfire software, with better resolution and detection limits. The metal analyzer can perform more stringent types of testing especially on trace and tramp elements. To achieve more greener production processes, manufacturers are becoming very conscious that certain hazardous elements shouldn't be in the sample. With the OE750, it's easy to control tramp and trace elements, like Fe and Zn, maintain stability on Si content and meet stringent customer specifications.
Our optical emission spectrometers are pre-installed with the largest metals grade database in the market which offers more than 15 million records for over 350,000 materials from over 74 countries. Since our customer manufactures automotive parts for vehicle manufacturers all over the world, the users need to be well-equipped with a vast range of material grades to avoid time-consuming research into international norms and grades.
The operators are pleased with the stable OE750's quick measurements and low operating costs that provides everyday analysis and total quality control to maintain high testing throughput in that site.
Versatile and flexible PMI analysis with the X-MET8000 Expert
After their purchase and experience with the FOUNDRY-MASTER Smart, Hitachi was the first brand that came to our customer's mind when they wanted a handheld XRF analyzer for positive material identification (PMI).
From checking incoming scrap and verifying the purchase to the final end-product inspection, the portable X-MET8000 provides non-destructive analysis and laboratory quality results including alloy grade identification and chemistry. Since it's so lightweight, ergonomic and easy to use, the purchasing department even takes the X-MET8000 along with them while auditing new suppliers.
Our easy to use and robust instruments, combined with sound technical and application advice offered to the customer during evaluation and dedicated service support after purchase, gave confidence to choose Hitachi not just once but three times within a year. All the instruments also come with our data management and storage service ExTOPE Connect, that allows managing the fleet of instruments from one centralized location with real-time access to all results.
When it comes to metal production, fabrication and product manufacturing, we know end-to-end quality assurance and control have never been more critical to increase production yield. That's why, with our range of metal analyzers, you can simply and accurately test the elemental composition of virtually any metal at any stage of the production process – whether raw materials or finished products – in the pursuit of 100% quality.
Discover more
---
You might also be interested in:
---
Share this blog