Using the wrong metal grade in your production can damage your end-product, resulting in field failure or flouting industry regulations. Verifying the metal grade is especially critical where a low carbon, or L-grade, steel is necessary to reduce corrosion of welded joints and brittleness in the final application.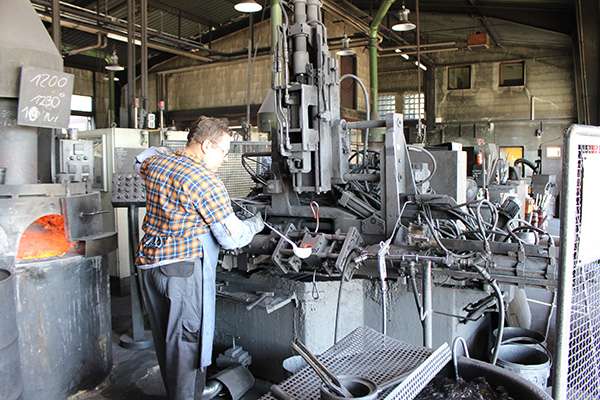 The FOUNDRY-MASTER Smart spark optical emission spectrometer (OES) delivers high performance analysis on a limited budget. It's suited for smaller foundries and metal processing companies that don't need low detection limits. For bigger foundries and steel plants, it's a fast, reliable backup analyzer.
But don't just take our word for it. Here's six use cases from our customers that cover what their business does, what application they use the FOUNDRY-MASTER Smart for and why they chose Hitachi spark OES to make a difference to their business.
1. Construction, architecture, and engineering
We've been working with a company engaged in construction, architecture and engineering who were initially focused on building warehouses and has now diverged into several other construction fields as well.
For them, it was important to be able to analyze Fe, Al and Cu in metal components. They chose the FOUNDRY-MASTER Smart for its efficiency and cost-effectiveness, knowing Hitachi's OES will assist their company to improve their quality and yield.
2. Steel mill
This company is revitalizing an old steel mill that shut down in 2015 and has been operational from 2021 dealing with ferrous products, main application being Fe.
They purchased the FOUNDRY-MASTER Smart due to the flexibility to support customer quality control needs with efficiency and cost-effectiveness playing important roles in the customer's purchase decision.
3. Casting company
This Chinese investment casting company is manufacturing in Indonesia and dealing with aluminum and zinc alloy products.
Word of mouth about how great the FOUNDRY-MASTER Smart influenced the customer's purchasing decision together with Hitachi's excellent customer support and the analyzers stability in performance.
4. Small start-up dealing with ferrous products
It doesn't matter if you're a big or small company. We've got products to suit as a small startup company dealing with ferrous products has discovered recently. Our expert support teams are also hands-on as and when you need it. As a startup, it's even more important to ensure quality control to build your reputation and we understand your budget limitations. The FOUNDRY-MASTER Smart provided this start up with flexibility to support customer quality control needs and helps them maximize yield and profits.
Cost-effectiveness and efficiency are what made this customer choose the FOUNDRY-MASTER Smart over other products on the market. Not forgetting it's low cost of ownership and ease of use, with minimal training needed to operate the spectrometer.
5. Second tier supplier
As a second-tier supplier dealing with ferrous products, they need to have rigorous metals quality assurance tests as part of the production processes. Their main application being iron, they purchased the FOUNDRY-MASTER Smart due to the flexibility to change to other matrixes in the future and the performance of the metal analyzer on ferrous alloys.
6. Medium-sized foundry
This family-run foundry in Germany provides a broad range of services including product development, molds and die creation, casting production, finishing with CNC controlled turning and milling centers and sub-assembling. They product 12 alloys including aluminum alloys and non-ferrous metal alloys (brass, aluminum bronze and pure copper).
They use their FOUNDRY-MASTER Smart for melt control but also end-to-end production monitoring from goods received – especially when raw materials are delivered without test reports – to shipping, providing test reports to clients.
This customer chose the FOUNDRY-MASTER Smart due to high precision, space, saving, integrated grade database, expandable matrixes, and Hitachi's technical support.
Discover more about the FOUNDRY-MASTER Smart
The FOUNDRY-MASTER Smart is one of our popular OES metal analyzers that's able to analyze majority of metals and their alloys. Typical applications include:
Fe: alloys, cast iron alloys
Al: alloys, cast alloys
Cu: bronze, brass, Cu-Ni
Ni: hastelloy ~inconel ~ monel
Ti: Ti pure, Ti.6-4 ~ Ti.8-Mn
Mg-, Co-, Sn-, Zn alloys, solders and more
This compact, easy to use spark OES analyzer provides seamless quality control in the multiple stages of metals production. With short start-up and measurement time, you can even identify duplex steels with nitrogen analysis. With a unique spark stand that's accessible from three sides, you can easily analyze samples with complex or irregular shapes and sizes.
With results on your fingertips – you've got a wide range of results forms and automatic storge, the excellent price performance ratio of this analyzer that comes with our GRADE Database with over 15 million records for over 350,000 materials from 74 countries included, you really can't go wrong.
Here's a quick demo from our OES expert Dhaval Rathod.
Ready to take the next step? Talk to our experts to book your demo or get a quote.
---
You might also be interested in:
---
Share this blog