It seems only yesterday that electric vehicles (EVs) were a future dream. Yet today, major automotive manufacturers around the world have at least one EV on the market, and all are ramping up their efforts in research, development and production of EVs. Market analysts predict that electric vehicles will soon dominate the automotive market, similar to the way smartphones transformed the mobile phone market about a decade ago. Current predictions show that by 2040, EVs are expected to make up over half of all passenger vehicle sales. The main driving factor for the move to EVs is to reduce harmful emissions that contribute to global warming.
One of the main goals of the development of EVs is to make them as efficient as possible to increase the range on a single battery charge. Reducing the total weight of the vehicle has a huge impact on efficiency and manufacturers are looking at alternative, lighter weight materials for the chassis and car body.


Impact of the electric vehicle industry on demand for key metals
Aluminum, copper and nickel are key metals for EVs and demand for these is expected to increase alongside the rise in EV sales. Although electric vehicle sales suffered with the rest of the automotive industry in 2020 due to the pandemic, sales are expected to now rise sharply.

And it's not only the car body materials that are expected to be in demand, the batteries themselves use copper, lithium, cobalt, manganese, nickel and graphite. In fact, demand for nickel is expected to increase by a factor of 14 between 2019 and 2030. Similarly, lithium and copper are expected to experience a tenfold growth in demand.
The image below by Visual Capitalist shows the expected growth in demand for key metals used in the production of EVs.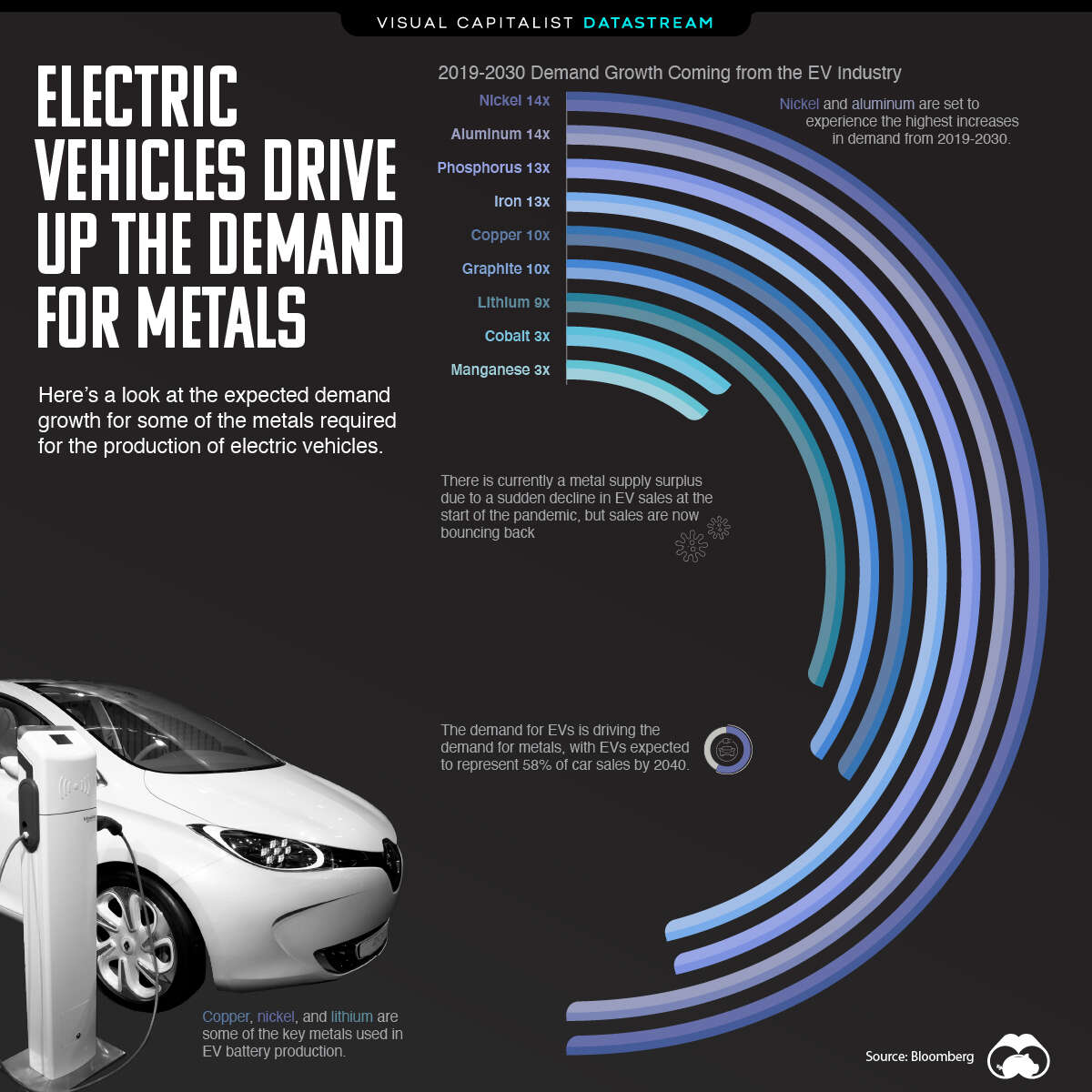 Image by Visual Capitalist


Aluminum – metal of choice
Aluminum – the dream metal of electric vehicle manufacturers – is used in an enormous range of parts within the body of the vehicles, including wiring, brakes, wheels, and pipes. It's also essential within the drive chain and is used for battery casings. Aluminum alloys are crucial in the development of electric vehicles due to their characteristic low density that helps to reduce overall weight.
The automotive sectors typically use the AA5xxx and AA6xxx series of aluminum alloy. However, most of the major suppliers are currently developing the AA7xxx series of aluminum sheet alloys to meet the high strength demands from automotive OEMs. Although the AA7xxx alloys (with the addition of zinc (Zn)) are costly and must overcome corrosion and stress corrosion issues.


Steel – still in the running
The high cost of aluminum compared to steel goes against the goal of reducing the cost of EVs. Therefore, advanced high strength steels (AHSS) are being used as alternatives due to their stiffness, strength, and ability to absorb energy in the event of a crash. As AHSS has such a high strength, the thickness of the parts can be reduced, helping to bring down the weight. Most newer vehicle designs use AHSS over conventional steel, which reduces the weight by 25 – 39%. In a typical family car this equates to a weight reduction between 170 and 270 kg and saves about 3 – 4.5 tons of greenhouse gases over the lifespan of the vehicle.
Automotive manufacturers around the world are constantly innovating to find the perfect alloy formula that balances cost effectiveness with safety and efficiency. Mild steels are being rapidly replaced by high-strength steels (HSS), advanced high strength steels (AHSS) and other high-tech alloys.


Where do materials analyzers come in?
This major shift in automotive engineering and manufacturing means the exact specification of these new materials must be verified during the many stages of electric vehicle production. From incoming inspection of raw materials to quality control throughout the manufacturing process, materials analyzers play a crucial role in the successful production of electric vehicles. Hitachi High-Tech's range of analyzers are designed with specific applications in mind, from accurate metals composition of components to ppm-level melt analysis. Our analyzers can help to accelerate your materials testing programs whether you are an automotive OEM or part of the supply chain.
The OE series of spark spectrometers is ideal for the analysis of metals within electric vehicle development and production. With new detector technology, these are our most powerful spark spectrometers, delivering a level of performance usually only seen in more expensive instruments.
For example, the OE750 provides excellent analytical performance for carbon steels thanks to its ability to monitor the nitrogen content in steel and iron casting processes at extremely low levels. The instrument can determine all other trace elements within steel and delivers trusted results for all main alloying elements.
Aluminum foundries supplying the automotive industry need to perform aluminum melt analysis at the highest level. For example, phosphorus (P), calcium (Ca), bismuth (Bi) and antimony (Sb) tramp elements must not exceed 120 ppm in total, as this would negate the effects of adding other elements to control the melt properties. Both analyzers within the OE series are designed to meet these exacting requirements, making them ideal for aluminum production.
For the analysis of nickel and nickel alloys, the new detector technology within the OE series enables these instruments to determine all types of nickel alloys and monitor the nitrogen content during the casting process. They will also detect other trace elements, such as lead and tin, and deliver trustable results on all main alloying elements.
Hitachi High-Tech analyzers are easy to calibrate, include self-checking software that ensure results are accurate, and offer advanced, cloud-based data management to make compliance and auditing easy.
Just as you would with your car, it's important to schedule regular maintenance for your valuable instruments. At Hitachi, we strive to keep downtime minimal with responsive customer support. We offer onsite or remote support, flexible service agreements, and analyzer audits with a focus on establishing a long-term relationship that helps to keep your business running.


Find out more
For more information on the OE series for your metals application, get in touch, or arrange a demo using the links below:
Get in touch
You might also be interested in:
The rise of lighter-weight metals in the automotive industry
Our full range of spark OES instruments
View an on-demand spark OES demo
Book a 1:1 live demo

---
Share this blog