With analysis demands rising within metal production and manufacturing, is your 'good enough' solution still able to deliver what you need? Both the OE720 and OE750 spark spectrometers are designed to be an accessible, but high-performance metals analysis solution – meaning that with Hitachi you can affordably upgrade. From high-end scrap and raw materials selection, to melt chemistry control, the OE series covers the complete spectrum of elements in metals, allowing all tramp, trace and residuals to be detected at extremely low detection limits.
The OE720 and OE750 help to speed up and simplify the testing process, reduce the capital outlay on testing equipment and make high level quality and production control achievable for you and your staff with smart equipment for rapid data transfer and intuitive software for ease of use. To illustrate the real difference the capability of the OE series can make to high-end metallurgical production, we'll look at what happened when global supplier of cast steel products and foundry equipment, Otto Junker GmbH, integrated the OE750 into their facility.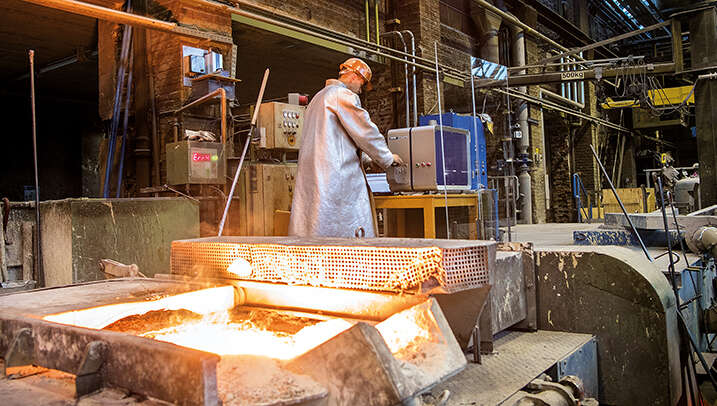 Rigorous metals analysis

Otto Junker GmbH work supply a diverse range of castings, including steel, stainless, nickel and copper-based materials for use within power generation, environmental engineering and marine technology applications. To ensure the performance and longevity of these components, it's essential that Otto Junker control all elements within the melt.
If these applications weren't demanding enough, the company also develops new steel and stainless-steel grades for new applications. This means testing new configurations using more exotic materials, making it essential to have the capability to detect the complete range of elements at very low limits.
Prior to using the OE series, Otto Junker used wavelength dispersal XRF and combustion analysis, with the addition of a mobile OES for backup.


All-in-one analysis with the OE series
Very quickly, Otto Junker GmbH found that the OE750 was able to meet all their melt control requirements, delivering the detection limits needed to verify C, Si, Mn, Cr, Ni, Mo, Nb, Cu, P and S. But that wasn't the only positive outcome. The ease of use inherent in the OE series made it simple and fast to add new calibrations for new material development, while the long-term stability extended the time between re-standardizations. In fact, the OE series made such an impression that Otto Junker have made provision for the OE750 right at market introduction.

Read the full case study.
Which of the OE series fits your application?
The OE series is a next-generation series of spark spectrometers that deliver top-range results for a mid-range price. A completely new optical concept, newly developed spark stand, and new detector technology all contribute to the next-level performance. Other features, such as low power and argon consumption and intuitive, easy to use software, ensure these instruments slot easily into foundries and metals production facilities.
There are two models in the range, the OE720 delivers exceptionally low detection limits for all non-gaseous elements within metals and is the cost-effective choice if you don't need to analyze gasses.
The OE750 offers the same level of performance as the OE720, plus the ability to analyze gasses at detection limits below 10 ppm. This is the analyzer to choose if you need to verify levels of nitrogen at low level, oxygen or hydrogen.
also leads to better light coupling from the plasma source to the detector, improving the resolution. The design of the sealed unit has been optimized for argon flow, and this also helps to reduce argon consumption.
These technical innovations to the OE series mean you get ppm performance across the board for metals analysis in an affordable instrument, and operating costs are kept down too.


Find out more
Find out more about how the OE series can help simplify and streamline your production analysis, get in touch to arrange a demo.
Get in touch
You might also be interested in:
Our full range of spark OES instruments
View an on-demand spark OES demo
Book a 1:1 live demo
---
Share this blog