The PHMSA's Pipeline Safety Regulation, or "Mega Rule" as it's come to be known as, will come into force on July 1, 2020. With only few months till operators need to take action, our experts guide you on what you need to consider when choosing an analyzer for the job.
How to comply with the "Mega Rule"
As a minimum to comply with the "Mega Rule", each required analysis shall contain the following elements:
Carbon (C), Manganese (Mn), Phosphorus (P), Sulfur (S), Chromium (Cr), Columbium [Niobium] (Nb), Copper (Cu), Molybdenum (Mo), Nickel (Ni), Silicon (Si), Titanium (Ti), and Vanadium (V).
Boron (B) but if the heat analysis indicates a B content less than 0.001%, (< 10ppm) then no B determination is required for the analysis. However, it's always an advantage if an analyzer has the capability to additionally analyze B simultaneously with the others.
Any other alloying element added during steelmaking for a purpose other than deoxidation.
Equipment that's used to uphold the different facets of the "Mega Rule" must be demonstrably accurate and precise, avoiding any future health and safety risks.
Spark optical emission spectrometers (OES) excel at providing full chemistry of critical alloy elements at low detection limits that handheld XRF and LIBS analyzers can't. OES has been establish for years. It's the most trusted and widely used method for creation and verification of MTR's (mill testing reports) in the world.
P, S, B, As and Sn can only be measured with OES technology. To distinguish between seamless and welded or alloy grades, you'll need Nb, Ti and V, again, which rely on OES to give you accurate results for traces. The only differentiator element to distinguish A25, CL and A25, CL2 is P.
Beside above-mentioned elements, the essential information needed is to be able to precisely calculate the CE (Carbon Equivalent) value, as this value defines the weldability of material. The calculation follows the AWI or IIW suggested formula, so high precision and accuracy is required on especially C analysis.
A handheld LIBS can provide you with carbon content, CE and concentrations of alloying elements Si, Ti, Mn, Cr, Cu, Ni, Nb, Mo and other elements. However, it doesn't actually ensure you fully comply as it can't provide full chemistry of critical alloy elements.
It's also worth noting that LIBS doesn't provide the same precision results as OES. Yes, it makes use of optical emission spectrometry, and to this extend it's very similar to arc/spark emission spectroscopy, but the key here is similar. Not the same.
If you have a handheld LIBS analyzer that can measure carbon, you'll also need to invest in a second instrument that can help you comply fully with the regulations and ensure you don't put people's lives at risk. Or alternatively, if you haven't got an analyzer, you should think through your options before jumping on the bandwagon.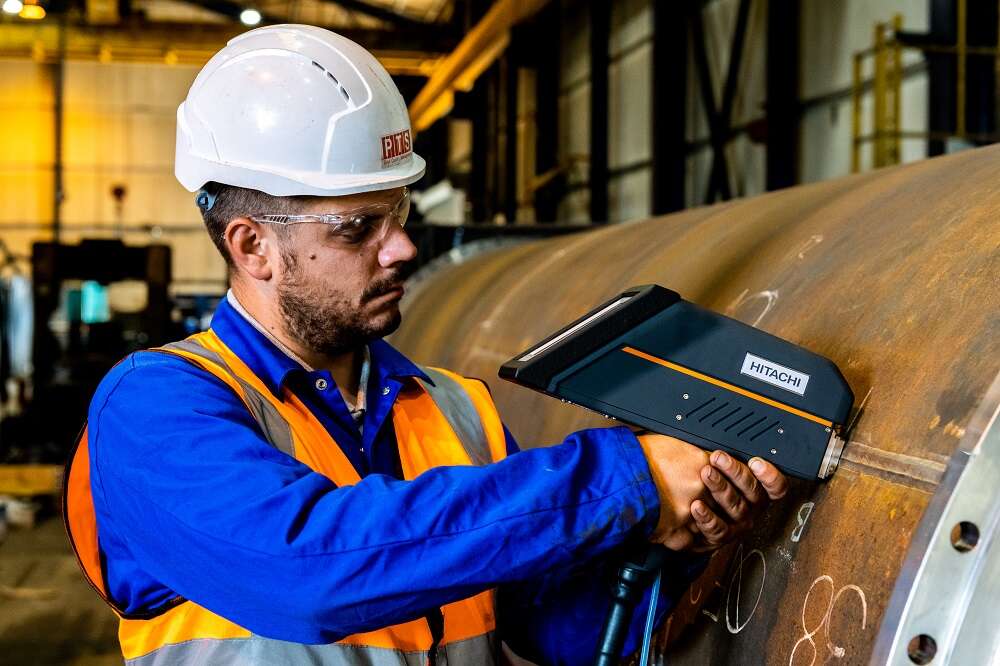 We've got you covered with the PMI-MASTER Smart mobile OES analyzer
Hitachi High-Tech has a range of analyzers designed for PMI/NDT testing of pipelines and equipment in hazardous, hard to access areas. Our focus is on ease of use, practicability and accuracy, because when you need to travel miles to access a pipeline, you only get one chance to get the right results.
The PMI-MASTER Smart is the only truly portable high performance OES analyzer on the market and what can help you get the job done, when getting it right is safety critical. It's ideally suited for PMI and on-site safety inspections at oil and gas refineries, power plants and of pipelines.
It provides very low levels of detection (LOD); in combination with the UVTouch probe, the LOD is 30 ppm. It's able to detect a wide range of elements including phosphorous and sulfur, nitrogen for duplex steel identification, and boron at LOD of 5 ppm.
Our optical emission spectrometers meet the world's most stringent PMI metallurgical alloy chemistry testing requirements including API 5L, ASME section IX B& PV, ISO 17025 and A2LA standards.
At 15kg, you'll be able to easily take it with you to the measurement point, whether at height, in a ditch, material inspection areas outside and inside, or in a laboratory. We've also got accessories to make it easier for you to push or carry the instrument. Fast start up times and ease of use give you results you can trust even in the most demanding environments.
We get the PMI-MASTER Smart is heavier and bulkier than handheld analyzers, but for when it comes to people, health, safety and risk management, analytical performance, not speed matters. To assure compliance, you need the right tool for the job.
Contact us
For a free demo, more information or a quote, get in touch with our experts to help you comply with the "Mega Rule".
For more information, please visit our "Mega Rule" resources page.
Learn more
---
About the author:
Hitachi High-Tech's Jordan Rose is a specialist in XRF, OES, and LIBS technologies. Jordan earned his BS in Materials Science and Engineering at the University of Connecticut and has spent almost a decade in developing applications and providing support to US customers across a wide range of industries. In his current role as Marketing Manager Americas, Jordan is based at the Hitachi High-Tech factility in Westford, MA where he's focused on connecting US businesses with Hitachi's comprehensive range of solutions for quality, compliance and safety.
---
Share this blog