Oxford, UK, January 19th, 2021 – Hitachi High-Tech Analytical Science Corporation (Hitachi High-Tech Analytical Science), a Hitachi High-Tech Corporation wholly owned subsidiary engaged in the manufacture and sales of analysis and measuring instruments, has launched the NEXTA DSC, a new range of differential scanning calorimeters for advanced materials development and product quality control. As the most recent addition to Hitachi High-Tech's high-specification thermal analysis range, the NEXTA DSC gives laboratories and manufacturers alike a new option for the most detailed and thorough DSC analysis.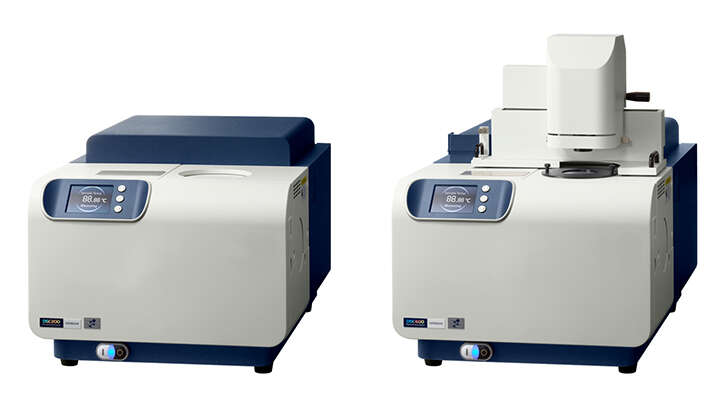 Cutting-edge RealView® technology visualizes analysis
The optional RealView Sample unit obtains visual sample information during the DSC measurement, capturing sample images in real time that can be related directly to the DSC signal. This helps to identify physical property changes and the added visual information to the DSC output makes it even easier to interpret results, especially when undertaking failure analysis, foreign particle analysis and investigating abnormal results. The high-resolution camera at the core of the RealView system allows the sample to be observed at very low temperatures down to -50ºC. An ideal option when using the NEXTA DSC for research, teaching, troubleshooting and measuring the size of the affected area, the RealView system includes color analysis (RGB, CMYK and LAB) and will record both pictures and videos of the sample. Results are stored referenced to the DSC output time and temperature for later analysis and investigation.
Detects the smallest thermal events
The development and manufacture of complex composite materials, where trace levels of additives have a huge effect on performance, puts great demands on the ability of thermal analyzers to uncover increasingly minute thermal events. The NEXTA DSC range has been designed to deliver the highest level of performance needed to thermally characterize today's advanced materials. Both models in the NEXTA DSC range benefit from a unique furnace design and newly developed sensors to deliver world-class sensitivity and unsurpassed baseline repeatability. These innovations help to detect and isolate the smallest thermal event, even for trace-level amounts within complex materials.
Newly developed sensor for advanced, reliable analysis
The NEXTA DSC600 benefits from a newly developed, thermopile-type DSC sensor, offering the highest sensitivity and resolution needed for more advanced materials development and failure analysis. The NEXTA DSC200 model has also been given a sensor redesign, delivering high sensitivity and stability within a cost-effective package. Both models have received a new furnace configuration to deliver a baseline repeatability of +/- 5 µW. This ensures the reliable and precise detection of trace-level materials, delivering the performance needed for a wide range of applications, including research and development and quality control of incoming and outgoing finished goods.
High volume sample analysis with safety built-in
In addition to the focus on performance, the NEXTA DSC range benefits from many other features to support high-volume and in-depth thermal analysis. The autosampler option includes a unique four-pronged sample holder that has demonstrated excellent reliability when analyzing up to 50 samples at once. Innovative safety features have been added, such as an automatic lid designed to activate at a pre-set temperature with automatic object detection.
Dual cooling system saves time and cost
The dual cooling system included with the NEXTA DSC range simplifies sub -80ºC analysis, negating the need to manually disconnect the electrical cooling system when liquid nitrogen cooling is required, saving the user time. The built-in hybrid system allows the connection of two cooling systems simultaneously. Three cooling systems can be chosen: air cooling, electrical cooling or liquid nitrogen cooling. Air cooling is ideal for those who are interested in measurement at room temperature and above. Most measurements will use electrical cooling, which helps to reduce costs while achieving sub ambient temperature. Liquid nitrogen cooling can be chosen only when needed for specific measurements, such as analyzing transitions in some rubber or elastomers.
Ashley-Kate McCann, Product Manager, Hitachi High-Tech Analytical Science said, "We've designed the new NEXTA DSC range to meet the demands of research and development labs and quality control departments in developing new materials and for ensuring the quality of many materials including polymers, chemicals, ceramics, metals, petrochemicals and food. In addition to a completely new sensor and furnace design, we've improved our cutting-edge RealView Sample Observation unit. We've also included new safety features, directly in response to requests from our customers. That's why we can say, when it comes to thermal analysis, we are visibly different."


The NEXTA DSC600 and NEXTA DSC200 are available to order now. Contact our experts to find out more.
Find out more
Contact us
---