Designed to play a key role in production quality control, the FT series coatings analyzers measure a wide range of applications in the metal finishing and electronics markets. The FT110A and FT150 series offer new solutions to measuring large parts with complex geometry and measuring ultra-thin coatings on small features. Both instruments are benchtop EDXRF (energy dispersive X-ray fluorescence) analyzers with powerful software and hardware designed to deliver high sample throughput, with quality results achieved by any operator. Hitachi High-Tech Analytical Science now sells and services these products in North America, Europe, Middle East and Africa.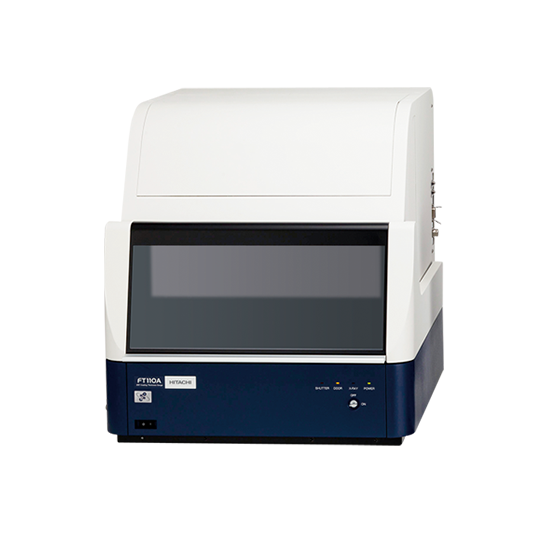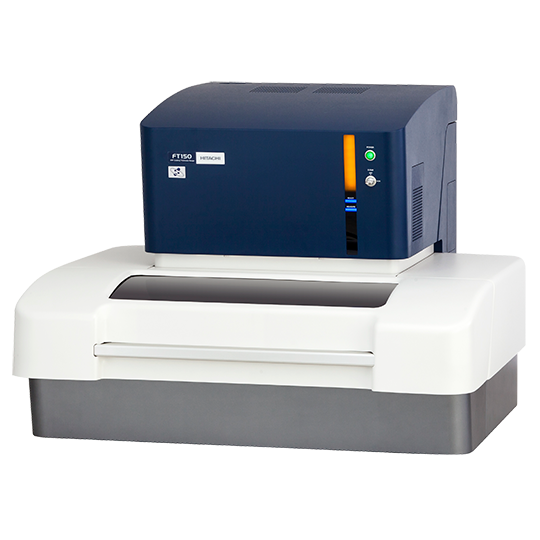 Easily handle complex samples
The FT110A includes several features to measure parts that are ordinarily difficult to handle. The large chamber, which can be configured with either a fully enclosed or slotted door, accommodates automotive components and decorative hardware as easily as it handles small fasteners. The auto-focus routine allows for measurements to be taken as far away as 80 mm from the sample surface, ideal for measuring recessed areas or rapidly measuring multiple parts with different heights. The auto-approach function offers one-touch positioning to set the X-ray components at the ideal distance for reproducible results. A wide-view camera presents an image of the whole sample to make it easy to locate the desired measurement location. Simply click the feature in the image and it is automatically aligned for analysis.
Measure nm-scale coatings
The FT150 features high-end components to provide the ultimate analysis of ultra-thin coatings on fine structures. A polycapillary optic focuses the X-ray beam down to a diameter of <20 µm, focusing more intensity on the sample and measuring features smaller than is possible with traditional collimation. A high sensitivity, high resolution Vortex® silicon drift detector (SDD) takes full advantage of the optic to measure nm-scale coatings on microelectronics and semiconductors. A high-precision stage and high definition camera with digital zoom allow for quick positioning of the sample features to improve sample throughput.
Matt Kreiner, Product Manager, Hitachi High-Tech Analytical Science said, "The FT110A and FT150 tackle some of the most difficult challenges in coatings analysis, using clever features inspired by 40 years of experience in developing XRF coatings analyzers. The sample handling capabilities of the FT110A and the microspot analytical capabilities of the FT150 complement our comprehensive line of coatings instruments, and we are excited to offer these new solutions to our customers."
Find out more