Handheld XRF analyzers (HHXRF) have made possible regular PMI safety inspection of plant pipework, and other permanent infrastructure. In fact, meeting legislation, such as the API 5L specification, relies on in-situ analysis with portable instruments.
However, one challenge that still remains when performing PMI analyses across plants is that many components get extremely hot during normal operation. This means that in many cases, essential inspection work can only take place during plant shut down, which typically occurs every five years, and this downtime is costly.
The HERO window developed for Hitachi's X-MET8000 changes this. With a HERO window fitted to your X-MET handheld XRF analyzer, there is no need to stop production when you need to carry out PMI inspection of plant pipework and other components – even when checking for light elements, such as silicon.
Here's three reasons how the HERO window reduces downtime:
1) Hot components up to 400ºC/752ºF can be tested
The HERO window can withstand very high temperatures, so you can measure hot components while they are in use. It's important to note that this high temperature measurement will capture most alloying elements, including light elements.
There are two ways that the engineers at Hitachi have made this possible.
Firstly, the window is so robust that the analyzer can be placed right up against the sample – there is no need to leave a gap between sample and analyzer. This minimizes signal losses (and reduces radiation risks).
Reason two is the window itself. As well as being extremely tough, the window is very light and thin, allowing weaker signals from the lighter elements to pass through with little attenuation, resulting in a comprehensive compositional reading for the alloy.
2) Testing is fast
Performing PMI inspection of in-use, high temperature components in hard-to-reach areas is a challenge. Even when your handheld analyzer can withstand temperatures of up to 400ºC/752ºF, your testing operatives may not be so robust.
Getting in and out of there as quickly as possible, with minimal time in actual contact with the component is essential. This is why we've developed the HERO window to be very thin – it would have been much easier to withstand high temperatures if it were thicker, but it's not feasible to expect someone to hold the analyzer against a hot pipe for more than a few seconds, and the thicker the window, the longer it takes to get the reading. The graph below shows how the transmission of the HERO window compares with the standard window type.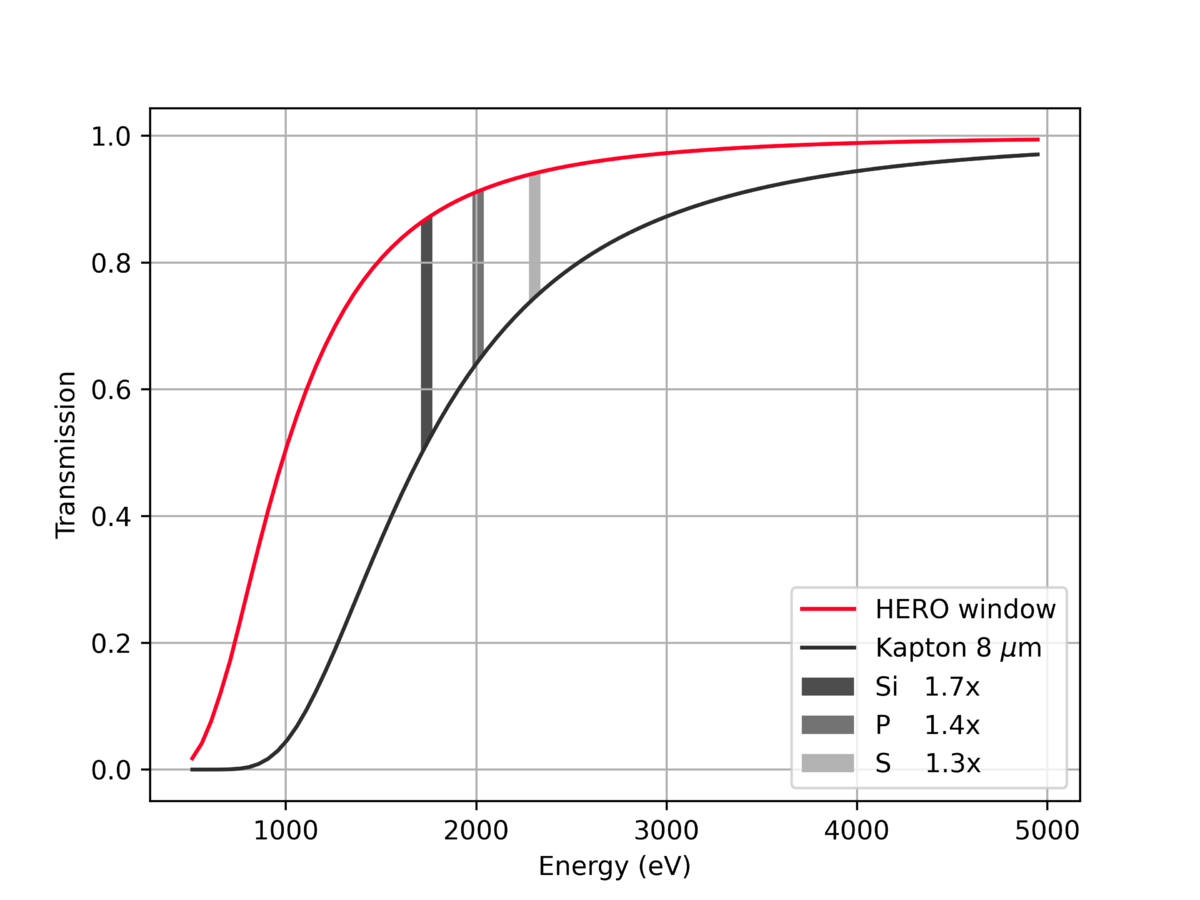 You can see that for light elements silicon, phosphorous and sulfur, there's more transmission with the HERO window, meaning that a full reading can be captured in very little time. To get the same accuracy for light element results with commonly used Kapton window, the user needs to measure almost twice as long as with HERO window. We recommend a maximum of 15 seconds to take a measurement at 400ºC/752ºF, increasing to 20 seconds at 200ºC/392ºF.
3) Switching to the HERO window is easy
The X-MET8000 comes with the option of the HERO window. Your instrument will be supplied with the standard Prolene window and the HERO window will be included with the analyzer should you wish to include it as an optional extra.
When you need to take a high temperature measurement, all you do is swap over the two window types. It's fast, easy and doesn't require any specials tools. Another bonus is that you don't need a special calibration for using HERO window and measuring hot samples or to recalibrate the instrument, just change the window and you're good to go.
As well as being invaluable for high temperature measurements, the X-MET8000 is robust, lightweight and comes with a long-life battery for all day on-site analysis. It's an extremely versatile and reliable analyzer that's a key part of your industrial plant analysis toolkit.
---
Find out more
For more technical information on the HERO window, including sample preparation and testing / cooling times, download our application note on high temperature testing.
For more information on the use of the X-MET8000 for your PMI inspection, get in touch to get a quote or a personalized 1:1 virtual demo.
Download our application note
---
You might also be interested in
Our full range of instruments for PMI safety inspection
Watch our on-demand webinars for PMI safety inspection
Find out more about the X-MET8000
---
Share this blog