With two new sensor designs and a complete furnace re-configuration, we are excited to launch our highest performing digital scanning calorimeter range yet – the NEXTA DSC.
Designed in response to today's challenges of verifying and developing complex materials, such as polymers and chemicals, our focus has been on performance. Too often, individual thermal events, such as glass transitions, can literally be lost in the noise, or be indistinguishable from other thermal events within composite materials. That's why the NEXTA DSC range offers world-class sensitivity and unsurpassed baseline repeatability, with an unbelievable signal to noise ratio that will pick up the tiniest thermal event, even in complex materials that include trace-level amounts of thermally active substances.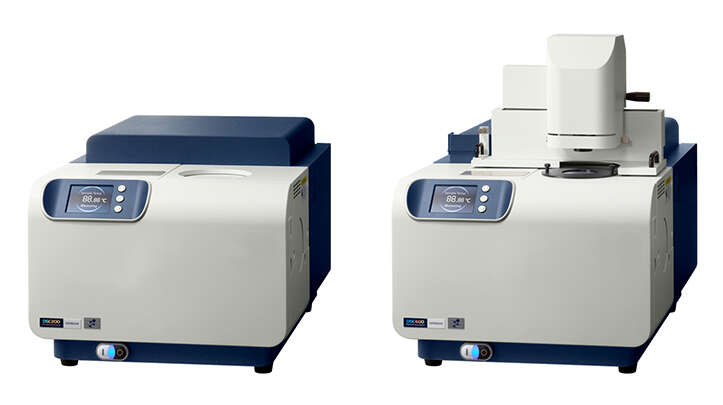 Two models to choose from
The range includes two models, the NEXTA DSC600 and the NEXTA DSC200, offering two different levels of resolution (time constant), noise and sensitivity. The actual figures are summarized in the table below, but in essence, the NEXTA DSC600 offers uncompromised DSC analysis with ultimate sensitivity and resolution and is the top of the range model, ideal for advanced materials development and failure analysis. The NEXTA DSC200 is ideal for quality assurance, quality control, and product shipping and receipt inspections. Both instruments have a baseline repeatability within +/- 5 µW, giving you results you can trust, regardless of which model you've chosen.
To give you an idea of the exceptional performance of these instruments, we've shown key performance criteria in the table below:
| | | | |
| --- | --- | --- | --- |
| Model | RMS Noise | Sensitivity | Time constant |
| NEXTA DSC600 | 0.05 µW | 0.1 µW | 3 seconds or less |
| NEXTA DSC200 | 0.1 µW | 0.2 µW | 6.5 seconds or less |
The DSC600 includes a new proprietary thermopile-type sensor with three thermocouples for the sample and reference to deliver the sensitivity without any compromise on resolution. The DSC200 also includes a new sensor, with great sensitivity for users requiring robustness and performance for less demanding applications. For many production quality control applications, such as polymer verification, the performance of the standard DSC200 is more than sufficient.
It's not just about performance
While our first priority was to develop an analyzer to give world-class performance, that isn't the only way that the NEXTA DSC range makes life easier for those developing or checking complex materials.
Rapid low-temperature analysis with dual cooling system
The range includes our dual-cooling system as standard, making it much easier and faster to take low temperature measurements. Simply select the temperature range you need and the instrument will automatically switch from the standard electrical cooling to the LN2 if necessary. Both cooling systems are permanently attached to the unit, so there's no need to manually disconnect the electrical cooling when using the LN2 system. There is the option to upgrade your instrument to have a second cooling accessory at a later date if you needs change from when you initially purchased the instrument.
Get the complete picture with RealView sample observation unit
It's often very useful to see what's going on with a sample. An example of this is for failure analysis, especially when the failure is accompanied by discoloration. By being able to see when the change occurred visually, it's easier to match that with the thermal process detected by the instrument. This is where our optional RealView system comes in; a high-resolution camera that takes images of the sample from -50ºC to 300ºC makes getting the complete picture much easier. The powerful software allows you to work with the images (image size, colour analysis, image correction, etc) to further your analysis.
Safety-first with built-in features to protect the user
We've incorporated several safety features in with the range, for example the built-in fan prevents the surface of the unit from getting too hot, even when the furnace is held at the maximum temperature of 725ºC. There is an overheat prevention feature within the furnace and, if you are using the optional auto sampler, the auto-lid feature ensures that the lid will only open once the furnace has cooled to safe temperatures.
With a temperature range of -150ºC to 725ºC, programmable down to 0.01ºC / minute and all software modules included as standard (e.g. modulated DSC, Cp, purity, etc), the NEXTA DSC range gives you the versatility you need for precise thermal analyses, even when detecting minute thermal events with trace-level amounts of material.
Find out more
To book a demo of the new NEXTA DSC and discuss which model is right for you, get in touch.
Get in touch
---
Share this blog