A year ago, I wrote about five predictions that would shake up the metals analysis landscape in 2020. But 2020 turned out to be a year like no other, so was I right?
As you'll see, despite the huge turbulence that this year has caused, many of the larger industrial trends have continued and some have even gathered pace.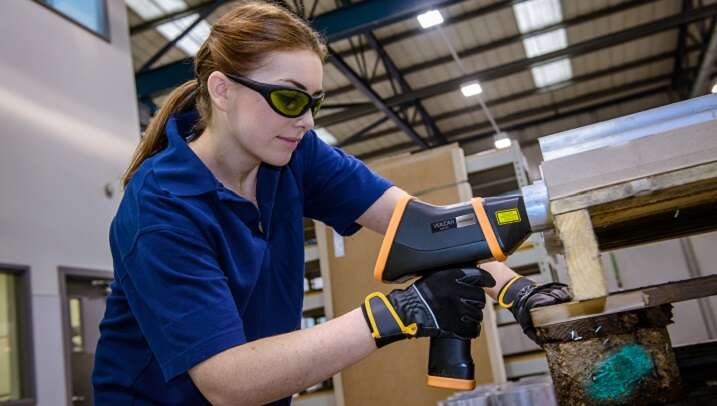 If you 're interested in finding out more about any of the topics, click on the links below to watch, listen or read our latest guides on the trends and solutions driving materials analysis in metals today:
1. Metals quality control continues to top the agenda
I don't think quality control will ever drop off the agenda. Instead it will take new forms as new grades, regulations or assurance needs are introduced. This year alone, the GRADE Database has seen more than 10,000 new material added to the list.
However, in 2020 global supply chains have been disrupted in a way never seen before, with the need to switch to new suppliers on the fly and this has posed a substantial challenge for quality control and risk management, with some high-profile failures across many critical industries. Getting it right first time and avoiding costly and reputation-damaging errors is particularly important right now as businesses try to recover lost time.
Read more about this topic in Quality Magazine from Christoffer Beck, our Product Manager for handheld XRF.
2. The debate whether LIBS can replace OES
This debate is still very much ongoing, to the extent that we released our Ultimate Guide: LIBS vs OES this year to coincide with the PHMSA 'Mega Rule' launch date on 1 July 2020. As a LIBS manufacturer, we're a great believer in LIBS technology's potential in the right applications, but where safety is concerned, we believe that OES is still the right tool for the job.
Our experts Michael Molderings and Jordan Rose present you with real data from an OES and LIBS analyzer with the ability to measure carbon to show that handheld LIBS doesn't currently give you always the level of accuracy and precision you need for safety-critical applications. There is a compromise for the convenience of going handheld which some customers are happy to accept. However, what we're seeing is more customers around the world reverting back to portable OES, because it's the only technology that can measure carbon but also phosphorus, sulfur and boron reliably. When safety and the lives of people matter, don't just estimate but ensure you invest in an instrument that provides you trusted, precise results.
We've also seen that companies are looking to future proofing their operations in other parts of the world. We've had many attendees at our webinars outside of the US around this topic as companies get to grips with the new legislation. Whilst it might be something to worry about tomorrow, we do see many safety legislations passed in the US first and then rolled out around the world so by getting an early preview of what's coming up, you'll be able to take the necessary steps well in advance.
Download our Ultimate Guide: LIBS vs OES or watch our popular webinar
3. The rise of LIBS technology
LIBS is still a relatively new technology, and many are uncertain of it still. Our product management team continue to provide educational material to help you understand why LIBS is the perfect technology for efficient PMI QC and sorting in scrap recycling.
Choosing a LIBS analyzer over your usual handheld XRF might save you money, and also brings you instant productivity gains, so that you can get through a batch of 500 items in no time. And especially in the current times, when solutions need to be not just reliable, but also cost-effective, considering a LIBS analyzer with 3-year warranty as standard, like the Vulcan from Hitachi , could tick a lot of boxes. .
Watch our on-demand webinar from our Global Head of Product Management, Mikko Järvikivi, on using our Vulcan+ Smart LIBS analyzer for PMI QC.
4. The rise of affordable high-performance OES analysis
With ever more demanding specifications, the tightening of regulations, complex supply chains and increased use of scrap metal as a base material, foundries and metals manufacturers are under increasing pressure to control tramp and trace elements within the melt and finished product. Add to that the recent disruption to business and materials supply chains caused by Covid-19, quality control in metals manufacturing at all stages of the process is more important than ever.
But with budgets under pressure, companies need to find affordable solutions. In the past, businesses had to choose between high performance OES analysis and instrumentation that was in their price range. The new OE750 from Hitachi re-wrote the rulebook, bringing comprehensive metals analysis now within the reach of all businesses.
Invaluable for everyday analysis and total quality control, the new OE750 delivers high-level performance on a par with larger and more expensive spectrometers. A modern design, CMOS technology, the latest software, wide wavelength detection capability and high optical resolution allowing you to control tramp and trace elements in the lowest ppm range. . making it the smart choice.
Read about Mr Son Nguyen, Director at Toan Thang Casting Co Ltd explain why they chose the OE750.
5. Big data will continue to play an important role
Supply chain disruption and remote working has shown more than ever the need for accessible data in businesses. With instruments able to take thousands of readings in a working day, having effective data sharing from different stages of the process or sites to one central point is crucial to support with real-time decision-making. With big data here to stay, data will continue to be the driving source for process control and optimization.
It's why we have specially designed software allowing a user to send, store and retrieve analysis results quickly and easily in a cloud-based service. We've extended our ExTOPE Connect cloud-based data management solution to our OES range as well recently in addition to our LAB-X5000 and portable handheld product ranges which have benefitted from service already.
Our teams are constantly looking at ways we can turn this into something of value to our customers. Whether machine failure predictions and diagnostics that lead to well-timed preventative work to optimizing production through data collection. We're working on a 2021 metals QA/QC outlook blog which will reveal more around globalization and Industry 4.0 so look out for that in January.
Click subscribe below to be in the know in the future as we release exciting updates
Subscribe
My original article has been one of the most popular blog posts for the year and as 2020 draws to a close, it's good to see that even though this year has not been what we expected, my predictions were still pretty much spot on.
At Hitachi, our teams continue to work to support you achieve productivity gains as you drive for operational efficiencies and improved capabilities to ensure you are getting maximum value from our XRF, LIBS and OES analyzers.
If you'd like to talk to our experts about the different toolbox solutions we can offer, get in touch today to:
Arrange a 1:1 live demo with our applications experts
Get a quote from our sales team
Have a coffee with one of our experts to talk about different solutions
Arrange a demo
Speak to our experts
---
Share this blog