Utility poles can be found all around the country and are an often-overlooked necessity for modern day power, cable and data transmission. Due to their importance in critical infrastructure, it is essential that utility poles can withstand not only the outdoor elements, but also termites and fungi that degrade the wood. As such, utility poles are pressure treated for preservation in order to last for decades.
Historically, the most common chemical used to treat these utility poles is called pentachlorophenol, or Penta. Due to its potential health and environmental impacts, Penta will be out of production by the end of 2021. This change has caused the industry to look at new treatment applications, including dichloro-octyl-isothiazolinone known as DCOI.
Why DCOI?
Penta draws concern as it is harmful to humans through ingestion and inhalation and has detrimental effects on the environment. In fact, in 2015 Penta was classified as a persistent organic pollutant by the Stockholm Convention and subsequently banned in most countries worldwide. As a result, an alternative was needed, and we now see DCOI becoming standardized for the treatment of utility poles. DCOI is an extremely effective wood preservative with minimal impact on the environment and human health. Compared to Penta, DCOI has a wider range of disposal options at end of life which adds another benefit for the user.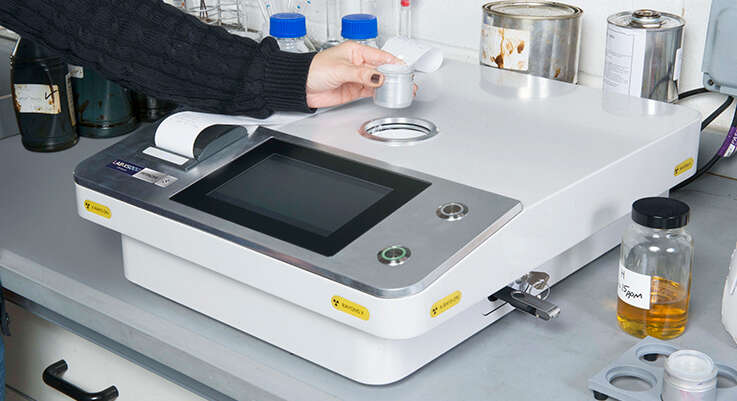 Implications for the Wood Treatment Industry
When treating wood utility poles, it is crucial to be able to analyze the chemical retention in order to effectively treat, handle, and dispose of treated wood. Energy dispersive X-ray fluorescence (EDXRF) has been successfully used for years to measure retention of most common treating actives such as CCA, Cu Azole, Micronized Copper, and Penta.
However, due to the relatively low levels of DCOI present in finished product as well as the chemical composition of the product, traditional proportional counter detector instruments commonly used in the industry are not up to the task of measuring this new product. This development could leave users of older XRF instruments without an adequate solution to meet new industry standards.
The Solution
To compete in this changing environment, our LAB-X5000 benchtop EDXRF includes the analysis technology you need. It provides easy, reliable and rapid analysis of wood preservative solutions and treated wood.
Rugged, compact elemental analyzer for repeatable and reproducible results in laboratories, production environments and mobile operations.
Intuitive interface is displayed on the large, industrial touchscreen.
Streamlined software and one-touch measurement start makes it easy for any operator to get high quality results.
High resolution silicon drift detector (SDD) allows simultaneous analysis of multiple elements, delivering fast analysis, and delivers the low detection limits needed for this application.
Atmospheric compensation allows stable analysis without the need for helium, minimizing the cost per analysis.
Sample spinner minimizes error due to inhomogeneous sample presentation e.g. sawdust
Interested in learning more about bringing a LAB-X5000 to your facility? Contact us today to discuss solutions for your business.
Get in touch
---
Share this blog