Ninh Binh Mechanical and Electrical Company manufactures and supplies specialized steel structures and lifting equipment of up to 100 tons. Established in 2009, the company produces casting products that must meet exacting specifications, including chemical composition, that are used by cement plants, chemical processing sites and other industrial facilities.
Technical precision is paramount, as many of the components they ship are replacement parts that operate in high-stress environments. As such, it's crucial that every melt is analyzed correctly for chemical composition – and this is where the Hitachi's FOUNDRY-MASTER Smart comes in.
As explained by the Chairman of Ninh Binh Mechanical and Electrical Company, the FOUNDRY-MASTER Smart slots perfectly into their production facility. The fact that the spark spectrometer fits on a desk and is very easy to use means that it can be situated right alongside production and reliable analyses can be obtained by those working on the factory floor.
"The FOUNDRY-MASTER Smart's compact size and many outstanding technical features, helps our company produce high quality products at a competitive cost for exporting to many countries around the world."
Nguyen Ngoc Thang: Chairman, Ninh Binh Mechanical and Electrical Co. Ltd.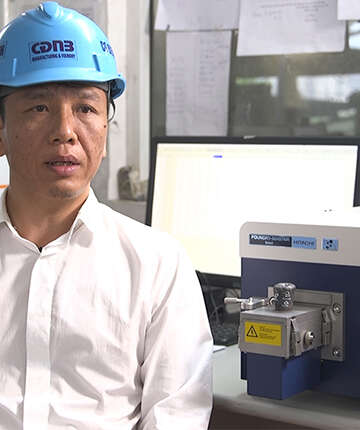 FOUNDRY-MASTER Smart: Setting the benchmark for OES
Since its launch in 2016, Hitachi's FOUNDRY-MASTER Smart has gained a reputation for technical precision and reliability. For some of the world's biggest and technologically advanced companies in tough industries, such as metals production and recycling, the FOUNDRY-MASTER Smart has become an invaluable tool in quality control. It is used by the biggest European companies in aerospace, as well as well-known gearbox manufacturers. And the instrument is also relied upon by academic institutions researching into new materials and inspection services worldwide.
Key to the popularity of the FOUNDRY-MASTER is that it manages to couple high performance in a compact, benchtop instrument. It's ideal for precision metals analysis where accurate composition is crucial to meet the specification of the final part – and its durable design means it is perfectly at home within the real-world environment of a foundry or metals processing facility. And the innovative spark stand design makes measuring complex and irregular shapes easy.
High performance at entry-level prices
The FOUNDRY-MASTER Smart can analyze the majority of metals and their alloys, using powerful patented optics and advanced software, to offer exceptionally high analytical performance in an instrument at this price. This means that you can use the instrument for identification of traditionally difficult materials, such as duplex steels.
In addition to the intuitive software interface, that presents easy to understand results in a variety of formats, the FOUNDRY-MASTER Smart is delivered with Hitachi's GRADE database, giving you access to a huge metals database for easy and up-to-date grade identification. The database is growing all the time, and to date it offers over 15 million records for 350,000 materials from 74 countries and standards.
Whether you need to carry out 100%PMI, are stepping up your melt chemistry control or are looking for a back-up instrument to prevent bottlenecks in production ramp-up, the FOUNDRY-MASTER Smart could be the spark spectrometer you need.
See how Ninh Binh relies on the FOUNDRY-MASTER Smart.
In this case study video, watch how Ninh Binh Mechanical and Electrical Company, Ltd uses Hitachi's FOUNDRY-MASTER Smart and why this popular spark spectrometer is the smart choice for the company.
Find out more about the FOUNDRY-MASTER Smart
---
Get in touch
---
Share this blog