How do you like your chocolate? Extra creamy or more on the brittle side? Should it melt in the mouth without making a sticky mess in your hand? Everyone knows what to expect from their favourite chocolate and entire marketing campaigns are devised around the texture and behaviour of the product. Try changing the type of chocolate and you could experience a serious backlash (see the Cadbury's Creme Egg scandal of 2015[1]).
Getting the chocolate right for every batch comes down to quality control. This is not that straightforward for food manufacturers, as the properties of chocolate are affected by extremes of storage temperature. This is why the thermal analysis technique of differential scanning calorimetry is such a useful technique for testing chocolate.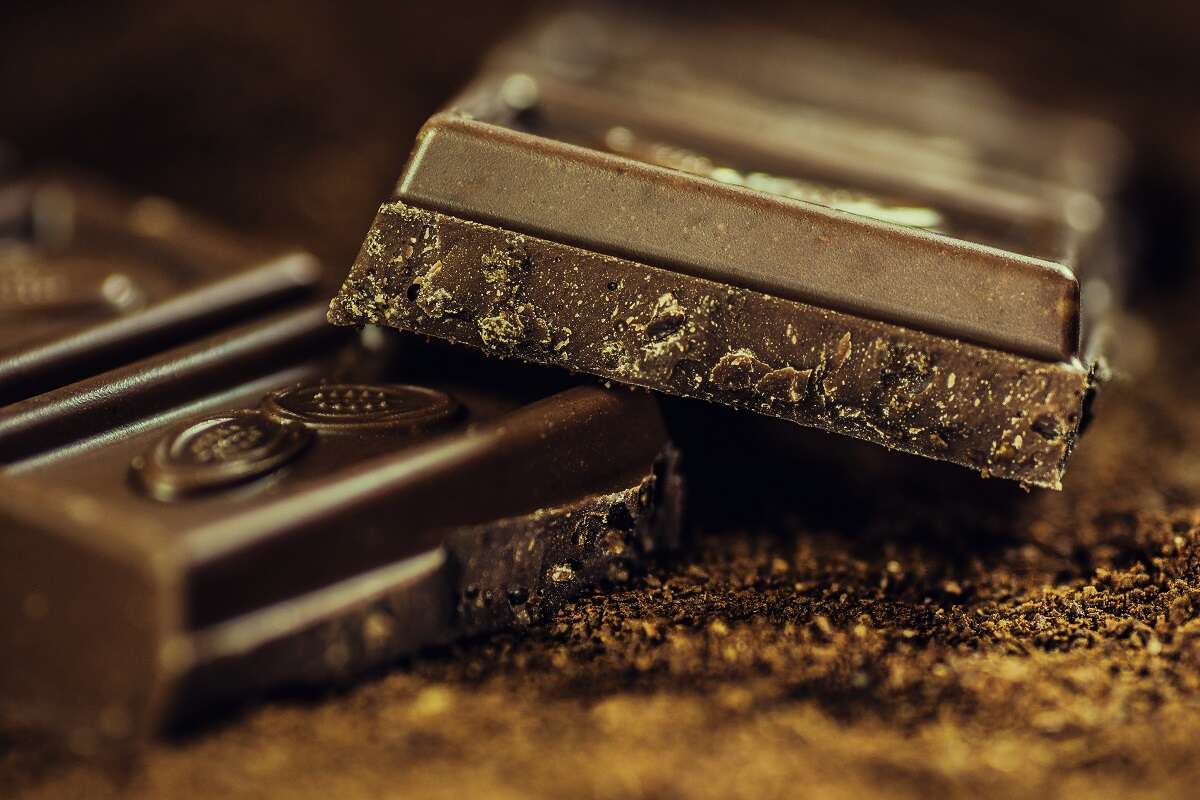 DSC for determining melting behaviour and solid fat content
Differential scanning calorimetry is part of the thermal analysis family and is a simple yet elegant method for characterising chocolate by analysing its response to changes in temperature. The results, based on cacao butter content, give you important product information, such as melting temperature, crystallisation, storage stability and texture.
To illustrate this, the green curve on the diagram below shows a typical DSC trace for creamy chocolate. Here, you can see valleys (endothermic peaks) that correspond to melting peak temperatures of 10ºC and 28ºC. This tells is that in this case, most of the fat will be melted at room temperature and the chocolate will have a creamy, soft texture.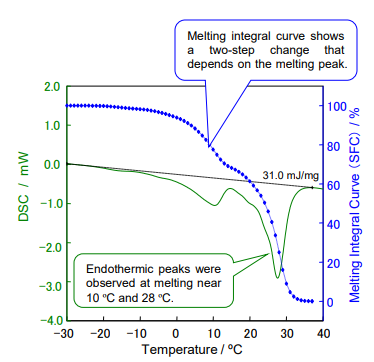 A DSC also allows you to test the effects of low temperature storage. While your sample is within the instrument, you can reduce the temperature to sub-zero levels, which will completely crystallise the chocolate. If you run a DSC test before cooling and another one after, you can compare the results to check whether your product still has the required properties after cold storage and transportation. Typically, exposure to very cold temperatures will lower the melting point of the chocolate.
And once you have your DSC results, it's easy to determine the solid fat content (SFC) as it's simply the integral of the melting curve. This is the blue line on the diagram above.
Introducing the NEXTA DSC range from Hitachi High-Tech
The NEXTA DSC range of thermal analyzers is designed for accuracy, sensitivity and ease of use. A unique furnace design with low heat capacity and three layer insulation gives you excellent baseline flatness that is able to detect the smallest changes in the thermal properties of your samples.
For practical quality control of chocolate, the NEXTA DSC includes a Real View camera system so you can watch the melting and crystallisation of the sample on the screen. You can take the temperature down to -80ºC and up to 500ºC. Although for the measurement of chocolate, up to 40ºC is probably enough for what you need.
The NEXTA DSC range includes auto sampler testing for high volume analysis and easily creates analysis reports. You can also add further options as your needs change, ensuring you get the most out of your instrument.
Find out more
To find out more about how our range of thermal analyzers can help maintain quality in chocolate production, get in touch.
[1] https://www.theguardian.com/business/2015/jan/12/shellshock-cadbury-comes-clean-on-creme-egg-chocolate-change
Get in touch
---
Share this blog