Control 2019, the international trade fair for quality assurance and control, takes place in Stuttgart from 7th-10th May. With almost 900 exhibitors attending, it's the best networking event to discover upcoming industry trends and learn about new technology that can deliver success for you.
Our technical experts will be at booth 6105 (hall 6) to answer all your questions on Hitachi OES, XRF and LIBS instruments used for quality control and assurance. It's going to be busy, so we recommend you schedule enough time to meet our experts and try out our analysers for yourself.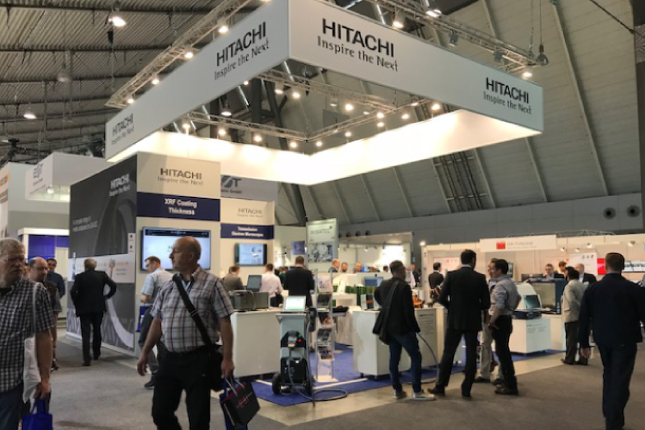 Here's our top five reasons to visit Hitachi High-Tech during the exhibition:
You're thinking of bringing your analysis in-house (or have just started to)
In-house analysis is easy and quick but if you're not sure where to start or how to optimise the process, talk to our experts for advice. Outsourcing is getting more expensive and incurs time delays, so take control of your analysis and bring it in-house. Our motto is to trust but verify certificates to protect your company's reputation and manage costs.
You're not sure which equipment is right for your business - OES, XRF or LIBS
The continued development and application of technologies like optical emission spectroscopy (OES), X-ray fluorescence (XRF) and laser induced breakdown spectroscopy (LIBS) is making analysis easier for companies across a whole range of industries. Tell our experts your business needs and we'll ensure that you get the right solution vs. expensive features that you don't really need.
You need answers to technical questions
We'll be offering in-depth knowledge and demos of our OES, XRF and LIBS analysers whether you're looking for quality assurance/quality control processes (QA/QC), material sorting, positive material identification (PMI) or scientific analysis. If you have application or equipment-specific questions, or want to know more about what is and isn't possible, our experts will help you with the answers that are relevant to your application, business and budget.
Hitachi High-Tech's Anne Wegner, EMEA Applications Manager, will be giving a talk on "Searching for the true value – how to evaluate measurements and the corresponding uncertainty" on Thursday 9th May at 14:20 at the Forum in Hall 8. Remember to add her talk to your agenda.
You'd like to try out instruments and software for yourself
The software installed in our equipment provides quick and accurate results and we design the interface to be very intuitive for those using the analysers every day. You can set pass and fail criteria for rapid measurement, or access the full results file for more detailed analysis. Our equipment is designed to be upgradable wherever possible, helping to future-proof your investment. Sample the software for yourself and ask any questions.
You're interested in related products from Hitachi
Our Hitachi High-Technology Europe colleagues will be showcasing their range of microscopes at the booth, from scanning electron (SEM) to tabletop: https://www.hitachi-hightech.com/global/science/products/index.html
You can drop into booth 6105 without an appointment, but to guarantee time with our experts to go through your questions and test our instruments for yourself, pre-book an appointment to maximise your visit to Control 2019.
Also, if you are thinking of upgrading your existing unit or to discuss a trade in option, come and talk to us.
We look forward to seeing you at Control.
Find out more
---
Share this blog