In the next few years we're likely to see a sharp increase in the use of aviation biofuels. In 2018, for the first time, the UK's Renewable Transport Fuel Obligation (RTFO) included aviation fuel. While not legally binding, the RTFO rewards fuel providers for meeting biofuel targets for the supply of aviation fuel. And the International Air Transport Association (IAggTA) are pushing for increased use of biofuel to meet its stringent targets for reducing greenhouse gas emissions – the target is 50% reduction of net carbon emissions of 2005 levels by 2050.
The first commercial flight to use a sustainable fuel blend was a Virgin Atlantic B747 back in 2008. Regular use in commercial flights began in 2011 and has been on the increase ever since, achieving 100,000 flights in 2017. The IATA aims for 1 billion passengers to have flown on a biofuel blend powered aircraft by 2025. And this target seems to be fully supported by the airlines themselves. Several airlines are going to increase their biofuel usage in 2019 and 2020, including Cathay Pacific Airways Ltd JetBlue, Cathay Pacific and Qantas Airways all have large biofuel supply agreements. And Virgin Atlantic have once again broken boundaries when in October 2018 they powered a transatlantic flight using a blend of fuel made from industrial waste gases.
There are also plans to increase production of biofuel. In Europe, the Advanced Sustainable Biofuels for Aviation (BIO4A) project is aiming to demonstrate the first industrial-scale production and use of sustainable aviation fuels in Europe. The feedstock for the fuel will include used cooking oil and drought-resistant crops grown on marginal land. The project is due to complete in 2022 and the fuel specification will meet ASTM jet fuel standards.
Currently, about 2% of global carbon emissions come from airlines. But the expected growth of the market will likely see this number increase and it looks like the airlines, backed by the IATA, are meeting this challenge head-on.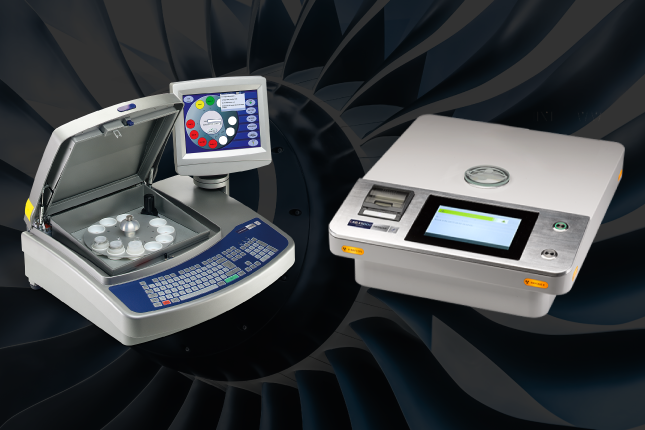 X-ray fluorescence (XRF) for aviation biofuel blend analysis
Aviation fuel that includes biofuel must meet the industry standard ASTM D1655 and D7566 (standard specifications for aviation turbine fuel). These set out the limits for a variety of fuel properties, including sulfur content. Energy dispersive X-ray fluorescence is an approved method for sulfur determination as described in the test method ASTM D4294. Our range of XRF analysers can measure the levels of sulfur within biofuel blended aviation fuel and will help you confirm to D1655 and D7566 by using the D4294 test method.
Our benchtop XRF analysers LAB-X5000 and X-Supreme 8000 both comply with ASTM D4294, ISO8754, IP336 and ISO20847.
The range is designed to be easy to use, even by non-laboratory operators. The display screen presents clearly the sulfur result and can be set up with a simple pass or fail readout. Little or no sample preparation is needed and the measurement time is fast. With these analysers, your data is automatically stored within the instrument.
As aviation grade biofuels become more commercially viable and their use more common, our analysers will help you conform to sulfur levels within your blended product.
For more information on using XRF to verify sulfur limits in petrochemicals, get in touch with one of our experts. You can also download an application note from our website, and see the full specifications for the LAB-X5000 and X-Supreme 8000 product lines.
---
Ready to get a quote? Click here.
Find out more
---
Share this blog