Accurate analysis is critical for the metals industry and can represent a significant cost to companies. The analysis of nitrogen at low detection limits is a particularly important, but difficult, analysis need. Previously, this has required companies to invest in a mid to high range optical emission spark spectrometer (OES) or an expensive combustion analyser.
Accurately measuring the element at low detection limits requires high levels of analytical performance, something only high-level, high-cost OES analysers could provide in the past. But knowing the precise level of nitrogen is essential to ensure safety and quality in cast iron and steel production.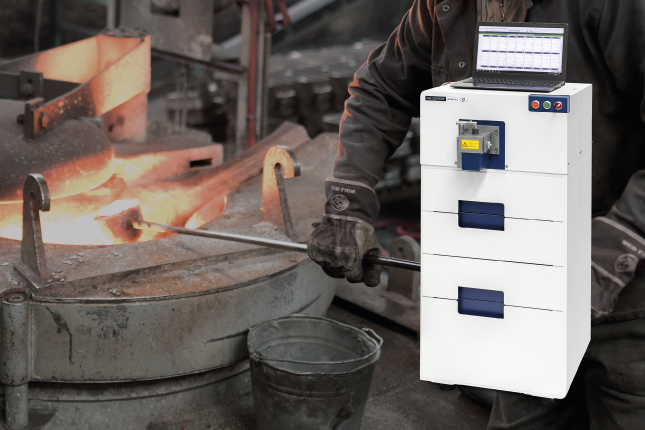 Safety-critical nitrogen analysis
For foundries faced with the high cost of analysis equipment that can meet their needs, not analysing nitrogen in their casting process is simply not an option.
Knowing how much nitrogen, along with other elements, is present in iron and steel is extremely important in terms of product quality, behaviour and safety of the metal. Whether used as an alloying element in duplex and stainless steels or during nitrating, too much nitrogen (especially in low alloy steels, steel and iron castings) can lead to dangerous inconsistencies in mechanical properties as well as pin holes and fissures on surfaces.
An important part of process control for foundries and steel works involves keeping nitrogen levels low, and this requires quick and accurate analysis at low detection limits. For nitrogen content in iron casting, the critical area of analysis is between 40 and 140 ppm. Up to 100 ppm nitrogen increases the strength of the material, while the effective monitoring of pinhole formation requires OES monitoring limits between 100 and 140 ppm.
For example, a company that produces welding studs needs to monitor nitrogen levels extremely closely. As their end products are used for welding, any excess nitrogen can lead to dangerous levels of porosity. The company might need to keep nitrogen levels at under 120 ppm to deliver safe products.
Verification to this level of detection would require investment in high-priced, high-end OES analysers or an expensive combustion analyser, usually with accompanying operational and maintenance costs. These costs had seemed unavoidable for operators, as not analysing for nitrogen was simply not an option.
Innovation in analysis – Low levels at low cost
Hitachi High-Tech has created the FM EXPERT to tackle the problem of nitrogen analysis in metal production. It's the first low-cost OES analyser that can offer nitrogen analysis to low detection limits. With a lower detection limit of 30 ppm it offers the highest analytical performance to price ratio on the market.
Importantly for foundries looking to introduce cost efficiencies into their processes, the FM EXPERT actively addresses the main challenges of OES nitrogen determination:
optimized argon flow management in the spark stand
Spectral range transparency, including deep UV
a new plasma view angle for a high level of analytical performance
The launch of the FM EXPERT is the latest step in Hitachi High-Tech's mission to provide companies with analysis solutions that meet their diverse needs. We believe in giving companies tools that add value to their operations through cutting edge analysis. By making something as important as accurate nitrogen analysis affordable, the FM EXPERT is not just the right analysis choice for foundries, it is the right business choice too.
---
You might also be interested in:
Our full range of spark OES instruments
View an on-demand spark OES demo
Book a 1:1 live demo
Guide: How to achieve optimal melt control for non-ferrous casting with OES
---
Share this blog