Cutting edge nitrogen analysis at low detection limits means a substantial investment in a high-range spark spectrometer or even a high cost combustion infrared analyser, doesn't it?
It might have in the past. But the new Hitachi High-Tech FM EXPERT is changing the way that foundries of all sizes think about how they invest in nitrogen analysis. For companies that are looking to bring in efficiencies to their processes, without sacrificing the performance of their OES tools, this could be the analyser you've been waiting for.
Here are six reasons the FM EXPERT could be the perfect new solution for your business:
1. Nitrogen analysis
Hitachi High-Tech's FM EXPERT is the first entry-level OES that can offer nitrogen analysis at low detection limits. With a lower detection limit of 30 ppm it offers the highest analytical performance to price ratio on the market.
Before, foundries would have to shell out for a high or mid-range spark spectrometer to hit the 80 -100 ppm or a high cost combustion infrared analyser to detect the formation of pin holes. For metal manufacturers verifying their incoming material, being able to accurately detect the potential for inconsistent mechanical properties or strain ageing caused by too much nitrogen would have called for a high-cost OES.
Not anymore. The FM EXPERT provides the high level of analytical power that our customers have become accustomed to.
This makes the FM EXPERT effective across a range of applications in the metal industry. Foundries will find it entry-level solution to their process control, by allowing them to avoid the formation of pin holes. But, the instrument's versatility also makes it at great process control for hardening companies doing gas nitriding or QC/QA for high alloys like duplex steel.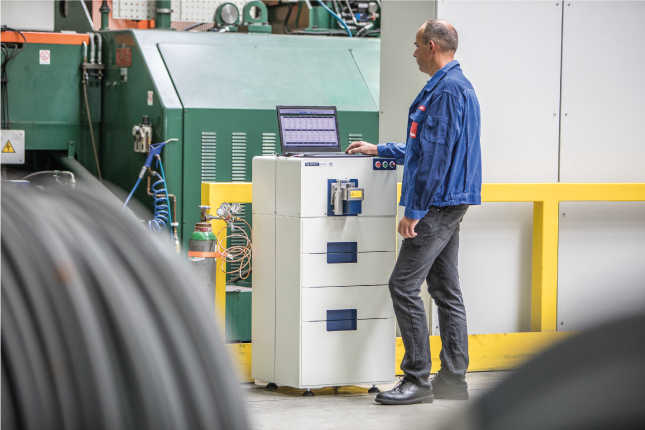 2. Entry level price
With the FM EXPERT, we've made cutting-edge nitrogen analysis affordable to all companies. And, just because of the entry level price, don't assume that we've held back on the design. The analyser is as robust and durable as any other OES we offer, capable of maintaining excellent levels of performance in the most demanding of manufacturing environments.
The FM EXPERT is ideal for large and smaller foundries looking to introduce cost efficiencies into their processes. Larger foundries and steel plants might also find that the price makes the FM EXPERT a perfect backup for their high-end OES.
3. Optimised flow management
Too much air can be detrimental to the analysis of a metallic sample. The FM EXPERT has optimized argon flow management in the spark stand, that when combined with top sealing effectively removes excess air.
4. Spectral range transparency
The optimum wavelength for nitrogen detection is deep in the UV range at 149,2nm, which means the optics, optical planes material and plasma view need top transparency. The FM EXPERT's argon purged optical compartment means high transparency for the complete spectral range, including deep UV.
5. Improved analytical performance
Good resolution is required to compensate for any interference caused by iron and other elements. With a new plasma view angle, the FM EXPERT offers a high level of analytical performance to accommodate for any potential interference.
6. Low cost of ownership
It's not just the entry-level purchase cost that makes the FM EXPERT an excellent way to add value to your operations. Like the rest of our OES analysers, it's built to be a low-cost member of your team. With minimal maintenance costs from the robust design, as well as low argon and power consumption, this analyser is not going to become a purchase you regret anytime soon.
At Hitachi High-Tech, we have over 45 years of experience in providing cutting-edge solutions to companies around the world. We understand the challenges our customers face, as well as their evolving needs, and we build our solutions to add value as well as provide powerful analysis.
Cutting-edge nitrogen analysis at low detection limits is now available to companies of all sizes, making the FM EXPERT the right business choice as well as the right analysis choice for foundries.
---
To book a demo and see the benefits of the new FM Expert OES first-hand, talk to a member of our team today.
Request Pricing or Demo
---
Share this blog