Hitachi High Tech's X-MET8000 handheld XRF analyzer offers many advantages for the identification and analysis of treated wood:
Easy to use: simple point and shoot operation. Minimal user training is required
Fast: reliable results chemistry in seconds, for high testing throughput
Rugged: its IP54 rating ensures durability and low cost of ownership. Ideal for use outdoors
Compact and lightweight (1.5kg with battery), the X-MET8000 is fully portable and is supplied in a small and rugged case for easy transportation from site to site
User-defined results: only see the information that's important to you (e.g. elements, compounds)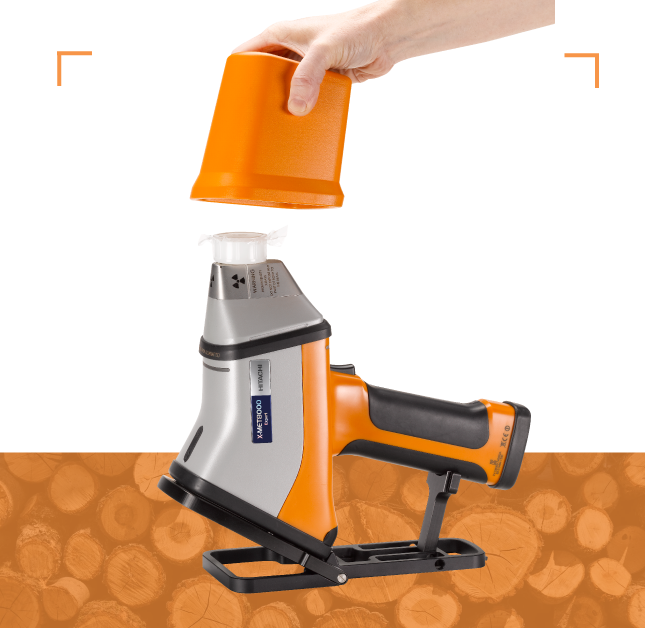 The X-MET8000 is factory-calibrated for wood analysis. Its Wood Fundamental Parameters (FP) calibration is a semi-quantitative method that has been optimized for the analysis of treated wood. The calibration can be used to analyze wood treated with chemicals other than CCA (e.g. copper-based or chlorine-based).
The Wood FP calibration includes the following elements: Ag, As, Au, Ba, Bi, Br, Ca, Cl, Cr, Cd, Cu, Fe, Hg, Mn, Ni, Pb, Se, Sn, Sb, Sr, Ta, Ti, Zn, Zr.
Treated wood can also be analyzed as sawdust. In this case, pour the sawdust in a sample cup fitted with polyester film, and measure the cup in the light stand (see picture). The light stand fits in the case, for complete portability.
---
Download the application note for more information.
---
Share this blog
Date: 21 August 2018
Author: Christelle Petiot, Product Manager, Handheld XRF