OILS AND FUELS ANALYSIS MADE EASY

The Hitachi LAB-X5000 energy dispersive X-ray fluorescence (EDXRF) analyzer makes fuels analysis easy. This rugged, compact analyzer is designed to provide reliable and reproducible results in laboratories, production environments and mobile inspection operations. The intuitive interface is displayed on a large, industrial touch screen. Streamlined software and one-touch measurement start function are inspired by our line of point-and-shoot handheld analyzers so any operator can get high-quality results. Built-in atmospheric compensation allows analysis without the need for helium or vacuum purge, minimizing the cost per analysis. The analytical method parameters have been optimised by applications engineers and include automatic compensation for changes in sample density due to varying carbon/hydrogen (C/H) ratios, enabling the measurement of multiple types of oils and fuels with a single calibration, simplifying analyser setup and operation.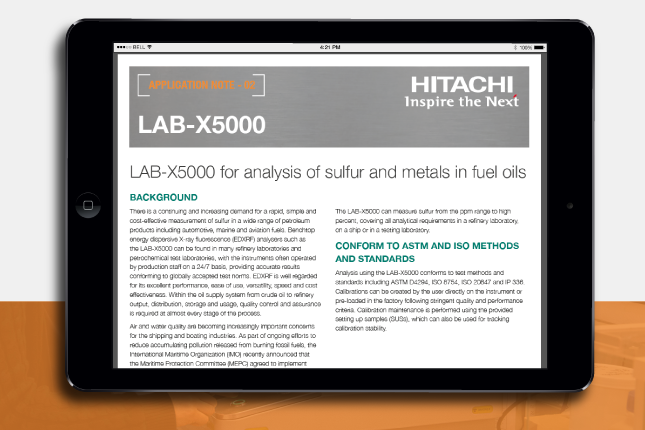 The LAB-X5000 includes several features that help protect against damage caused by sample spills. Sample cups fit inside a secondary safety window that contains leaks from the cup. These windows are re-usable and removable and do not require tools for assembly. The sample is inserted into an automatic turntable that positions it for analysis then moves the sample away from the X-ray tube and detector when the measurement is complete. While the risk of a leak escaping both the sample cup and secondary containment is small, should it occur it would happen away from the analytical components. To remind users that a sample should be removed after a measurement, an audible alert is generated when the analysis is complete.
Advanced data handling capabilities include connectivity to LiveConnect, a cloud-based service for storing and managing analysis data anytime, anywhere. Locally, 100,000 results and spectra are stored on-board the analyzer. Results can be printed on the integrated printer and transferred via USB.
The LAB-X brand has been trusted by the petroleum industry for decades for its reliability, ease of use, stability and ruggedness. Download the application note below.
---
Share this blog
Date: 7 August 2018
Author: Christelle Petiot, Product Manager, Benchtop XRF