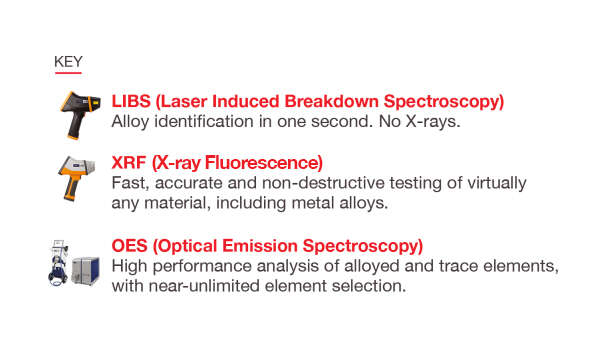 When it comes to metal production, fabrication and product manufacturing, we know end-to-end quality assurance and control has never been more critical to increase yield. That's why with our metal analyzers you can simply and accurately test the elemental structure of virtually any metal at any stage of the production process – whether raw materials or finished products – in the pursuit of 100% quality.
---
Raw materials
Whether your raw material comes from mining or scrap metal, meeting customer specification is vital. Our range of handheld analyzers enable effective sorting, grade control, grade ID/verification, and tramp element analysis.
Discover more about our products for raw material analysis
Watch the X-MET8000 being used for geochemical analysis
Watch TNT Scrap talk about why they invested in a Vulcan for scrap recycling
---
Discover more about our products for QC during metal production
See how our OE series could help you with process control
See how our mobile OES range can help with quality control before shipment
Watch Ninh Binh explain why the FOUNDRY-MASTER Smart is the ideal solution for their foundry
Download our guides for foundries
---
Fabrication
Ensuring quality during the fabrication process helps you meet compliance and cost pressures. Our range of metal analyzers enable you to verify and test the elemental composition of materials entering the process, to avoid the cost and waste of re-work. QA/QC checks when components are finished provides reassurance your products meet specification.
Discover more about our products for the fabrication process
Webinar - How to conform with norms & regulations using material analysis equipment
Webinar - Using Vulcan Smart+ to identify alloys for PMI QC
See how our Vulcan LIBS analyser is used for QA/QC analysis
Watch our customer story videos
Paul Meijering Stainless Steel
---
Product manufacturing
Take control of your processes and make sure products are made of quality parts and exactly the right composition. Our range of material analyzers help you ensure quality and consistency in the product manufacturing stage. This includes incoming inspection, verifying component material, warehouse management, and non-destructive regulatory compliance screening (RoSH).
Discover more about our products during the product manufacturing stage
See how our Handheld XRF analyser X-MET8000 is used for quality control & assurance
Webinar - Understand how complimentary material analysis techniques can help improve quality
See why our XRF coatings analysis range for metal finishing can make the difference
Watch our customer story videos