All the metal in the world is either underground, in use in our everyday lives or in the form of scrap.
Recycling metal is a cheaper source of raw material than mining and saves a lot of energy in the whole supply chain where metals are used including automotive industry, metal manufacturing, aerospace. With over 400 million tonnes of scrap processed annually, sorting scrap metal through testing adds value at all stages of the metal recycling process, from sorting mixed scrap into low value and high value materials, to determining the composition of the scrap that goes into the melts and the quality of the output.
Join our experts as they share current trends and market outlook in metal recycling as well as recommendations to help you get most out of your scrap metal, maximizing your profits.
Here's what we'll cover during the webinar:
Metal recycling market outlook – showcasing impacts of automotive, aerospace, light alloys, and penalty elements
Local trends – as even more scrap is used as raw materials, what kind of challenges are set
Hitachi's range of LIBS, XRF and spark OES – quick sorting to accurate chemical composition
Asia
Americas/EMEA

In partnership with Material Recycling Association of India, MRAI - 27th April at 2pm IST

Mahendra Nimkar, Commercial Leader

6th May at 10AM EDT/ 3PM BST / 4PM CEST / 5PM EEST

Christoffer Beck, Product Business Development Manager - Handheld XRF

Register
Register
About our speaker
Mahendra Nimkar:
Mahendra Nimkar is the Commercial Leader of Hitachi High-Tech Analytical Science located in Mumbai, India. He has over 20 years of experience in the field of analytical instrumentation supporting customers in diverse markets including metals, petrochemical, pharmaceutical, mining, etc and understanding customer needs and supporting them with their requirements in analytical instrumentation. He is responsible for business development in India and neighbouring countries.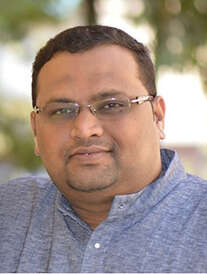 Christoffer Beck:
Christoffer Beck is the Product Business Development Manager for handheld XRF at Hitachi High-Tech Analytical Science based in Finland.