Metal manufacturers across the globe rely on Optical emission spectrometry (OES) in production control throughout the melting process. The exact chemical composition or the melt recipe of the alloy being manufactured needs to be checked throughout the process to ensure the quality of the finished product meets the required specification.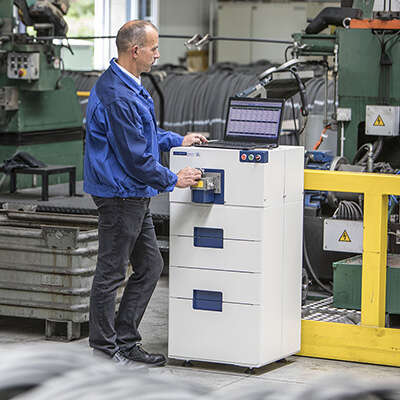 From interactions with my customers, the top five reasons why they choose our stationary OES instruments above others are:
Ease of use
With high volumes of samples and rigorous production schedules, keeping it simple is what most of my customers prefer. High level analysis should be as easy as placing the sample on the spark stand, starting the measurement, and reading the results.
All of Hitachi's stationary spark spectrometers are easy to learn, with minimal training and use SpArcfire, a modern intuitive operating software with a state-of-art user interface. With a few steps, a user can effortlessly access the largest metals database with the GRADE Database that is pre-installed on all our optical emission spectrometers. The pre-installed FP-LIMS light statistical control software package closes the "ease of use" circle, where customers can store results, create statistics as well as individual control charts.
State-of-art optic design
Hitachi High-Tech's OES analyzers don't restrict operators to having more expensive materials or higher operating costs. With the experience of more than three decades, we design our instruments to be more efficient, cost effective, smarter and user friendly.
Our optics are specially designed to cover wavelength coverage from 119 to 670 nm (766 nm), making it simple for operators to pick up the initial signs of spectrum drift and correct the problem. We have thus automated the process of monitoring and correcting the spectral positions of all relevant channels before each analysis. If the analyzer itself is well-maintained, drift should not result in a spike in maintenance costs.
Low cost of ownership
With much of the financial cost of any equipment incurred by a business after purchase, predictable and minimal running and maintenance costs are key. With our range of stationary OES instruments, businesses of all sizes are able to find an analyzer suited and tailored to their process control needs and analytical requirements. Each Hitachi spark spectrometer gives the customer fast results and reliably high performance combined with a robust and durable design. Rigorously tested during production in our factory in Germany, and equipped with optimized power and argon consumption to ensure low cost of ownership, our OES range will give you control over your quality, while speeding up your production process by reducing tap-to-tap time.
With superior and accurate analysis capability, businesses will be able to yield substantial profitability, no over buying and constantly to reach quality targets precisely with minimum cost involved.
High performance and precision with a small footprint
My customers across the globe have different requirements based on their end-customers' needs or nature of products manufactured. During the past decade "semiconductor" based detectors have made a huge jump in technology, with Hitachi being the first reputed manufacturer to incorporate CMOS detectors in optical emission spectrometers. Our CCD (Charge-coupled device) and CMOS (Complementary metal–oxide–semiconductor) based spectrometers enable the instruments to be compact and give the users a great amount of flexibility.
CCD and CMOS detectors aren't limited to one detector / one element. These detectors are exposed to all light lines emitted from the sample where it could detect them at a faster rate. The detectors allow the analyzer to capture full coverage of every wavelength on the entire relevant analytical spectrum simultaneously. Hence the capability of CCD and CMOS are unique and high-performance despite their small footprint. The combination of optical design and use of these detectors in Hitachi OES allow even more benefits to customers who do have multi matrix applications.
Keeping you running
One of my customers recently said, "the high quality and very good performance as well as reliable and fast service in more than 10 years of working together are criteria for us to choose Hitachi".
However well-designed and technical superior an instrument could be, the response and support from an instrument's manufacturer is crucial in determining the relationship with customers. At Hitachi, we strive to keep downtime minimal with responsive support – onsite or remote, flexible service agreements, analyzer audits building a long-term relationship with our customers and keep their businesses running.
Get in touch with one of our experts for a quote.
Get in touch
You might also be interested in:
Our full range of spark OES instruments
View an on-demand spark OES demo
Book a 1:1 live demo
---
Share this blog