Global mining company Sibelco extract high quality kaolin from sites around this world, including this an excavation site in the UK. As one of the world's leading suppliers of kaolin, maintaining a constant supply of high-quality product is essential.
The key elements that must be controlled in kaolin are iron and potassium. To do this, Sibelco use an X-Supreme8000 analyzer from Hitachi High-Tech. And it's an instrument that gets a lot of use. Not only is the site a 24 / 7 operation, the kaolin is analyzed at many points during the production process: when the raw material is extracted, when it's in the slurry stream and when it's in its final form and ready for shipping.
If that wasn't enough, the instrument is used every time they have to choose a new site within the quarry for minerals extraction, and this is done every two hours.
Sibelco are veterans of XRF analysis, they have been using Hitachi instruments for over 15 years and know exactly what they need from an analyzer.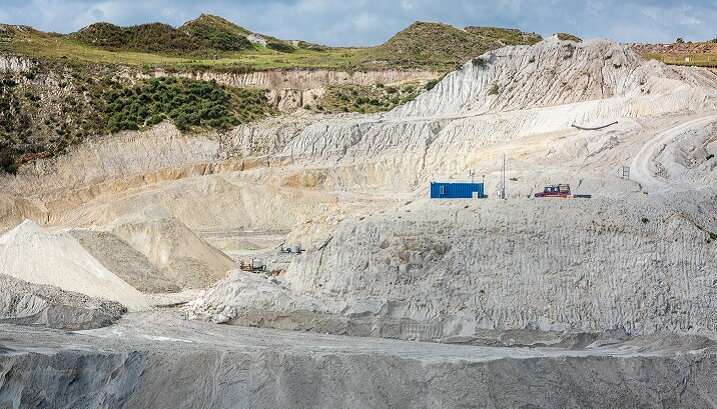 Why the X-Supreme8000?
Right now, Sibelco use a Hitachi High-Tech X-Supreme8000 analyzer. It's perfect for their situation because it couples high volume, high speed analysis with high accuracy in a compact, self-contained benchtop instrument.
Accuracy and Precision
The X-Supreme8000 has a high performance, high-resolution X-ray detector that can measure several elements simultaneously, which significantly speeds up your analysis time.
Fast feedback on quality
The X-Supreme can take 10 samples at once, helping you save time in loading samples. An intuitive user interface with simple operation allows you to take a reading in just a few minutes, essential when you need fast feedback on the composition of your sample, like Sibelco do when they are choosing a new site for extraction.
Reliable and durable
Minerals extraction facilities are not the cleanest of facilities, there's plenty of dust floating around. In Sibelco's case, the analyzer is kept in a clean environment, but if the analyzer were in a dusty atmosphere, it wouldn't adversely affect the equipment as it's designed for harsh environments. For example, the analyzer uses an industrial-grade PC and the housing ensures the sensitive parts of the equipment are kept free from dust.
Minimal running costs
If you are using a lot of consumables, such as helium, the costs can add up if you are taking many measurements. To keep costs down, most measurements can be taken in an ambient air atmosphere, and the only consumables you need are low cost sample cups and windows, depending on your application.
Ultimately, Sibelco chose the X-Supreme because of their good experience with Hitachi instruments and their need for dependable analysis. As Kevin Barstow, UK Quality Control Manager for Sibelco, says, "We've been very happy with Hitachi equipment because it's robust, easy to use, easy to set and calibrate, and it's reliable. We've had Hitachi benchtop XRFs in this lab for over 15 years now. It adds value because we need to get the most out of our mineral."
Take a closer look at the Hitachi benchtop XRF range for elemental analysis.
The X-Supreme8000 is one of a range of Hitachi benchtop XRF analyzers for elemental analysis. As well as minerals extraction, the range is ideal for any industry where precise analysis is needed to control quality in a production environment, such as: petrochemicals and oil, cement, paper, wood and cosmetics.
To see a demo of one of our analyzers or find out which one is best suited to your application, get in touch.
Find out more
Contact us
---
Share this blog