Robotics and artificial intelligence (AI) are at the heart of a new era in manufacturing, the drive to digitize industry. In many industries, robots and AI already take a crucial and prevalent role – improving accuracy and consistency, shortening throughput and enhancing product quality. And this is on the increase for the metals industry, both on the factory floor but also in the laboratory, to be more efficient and connected.
Back in 2014, 59% of manufacturers around the world were already using robotics technology in one form or another according to a survey by PwC. By 2017, industrial robot sales increased by 30% per year, driven by the exceptional growth in the metal industry (+55%) as reported by World Robot Statistics.
Today, demand is accelerating further as we move ever closer to full automation and companies are becoming more efficient, reducing injuries and worker fatigue
Here's three key trends we are seeing in metal manufacturing on how robots are changing the way:
Creating efficiencies – the rise of cobots
As well as introducing entirely automated product lines, some industries are introducing cobots, collaborative robots, which are designed to work alongside humans in the workforce.
Manufacturing teams made up of humans and cobots have been shown to achieve significant reductions in human idle time and a significant increase in overall efficiency.
In foundries, labor shortages challenge many manufacturers today. What we are seeing instead, is cobots are taking on the dirty, dull and dangerous tasks, supplementing their human co-workers with more opportunities to tackle the higher-level functions whilst delivering more consistency and thus, increasing quality.
Another example is manufacturers of large parts, such as castings and frames for trucks, off-road vehicles, and equipment for agricultural, construction and mining applications. Often, they are limited by their ability to make and move 500kg parts quickly, consistently, and safely. To improve throughput and quality, large-part manufacturers are turning to robots for machine loading/unloading, part handling, welding, painting, and assembly.
24/7 factory floor and laboratory
In metals manufacturing, robots can be programmed to operate 24/7 in lights-out situations for totally uninterrupted production. In a world where 'green' manufacturing or sustainable manufacturing practises are being constantly talked about, the great thing about robots is that they can operate in the dark and cold. Ultimately, providing cost and energy savings.
You may find robots on the factory floor identifying the materials flowing into and through the plant or in a laboratory, testing samples to ensure quality control – with real time feedback between operatives and laboratory results, enabling the operatives to react within minutes with some probably not having to move from their chair to make the necessary adjustments. And there's no chance that the robots, doing all the hard work, might experience fatigue – they are there to work as hard as your analysis instruments.
Cloud robotics
An emerging field, cloud robotics enables robots to combine robotic functionality with other digital tools like artificial intelligence and virtual reality. This enables robots to share information and real-time data when connected to the cloud.
In a world where information is king in the metals industry, the ability to make manufacturing quality assurance and control processes simpler and faster is vital. It's why we have designed software specifically for a user to be able send, store and retrieve analysis results quickly and easily in a cloud-based service, including managing a fleet of instruments from one location.
But who is to say this won't be done by robots in the near future the way technology is developing? It's something we're looking into.
With a lot of focus on streamlining manufacturing, moving into automation and Industry 4.0, the rise of robots is on the increase, a reality we all have to adapt to. Our teams are working in collaboration with our customers to unlock the power of analysis in the new era of metals manufacturing.
Want to talk to our experts? Contact us today to discuss your requirements.
Contact Us
Enjoy your read?
Want to find out more about what we think will figure in the future of the metals industry and what is influencing the way we develop our technology? Download our Metals Analysis Guide.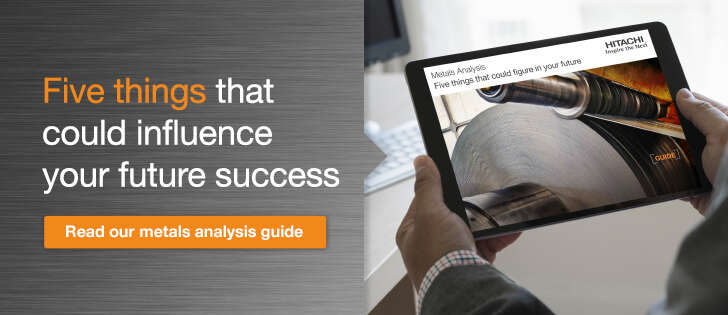 ---
Share this blog