The Hitachi High-Tech handheld XRF Analyzer range has expanded to offer even more choice for geochemical professionals. The X-MET8000 Optimum Geo is a new accessible handheld XRF (X-ray fluorescence) analyzer optimised for mining grade control and environmental soil screening. Geochemical explorations will become even more rewarding, knowing you can advance the project or change strategy quickly depending on what your X-MET8000 Geo detects.
Why use XRF for geochemical analysis?
XRF technology is an analytical technique used to determine the elemental composition of materials, and there are many benefits of using XRF for soil and rock analysis. Whether you're screening contaminated soil or measuring geochemical samples, XRF helps you achieve quick results backed up by a high confidence level.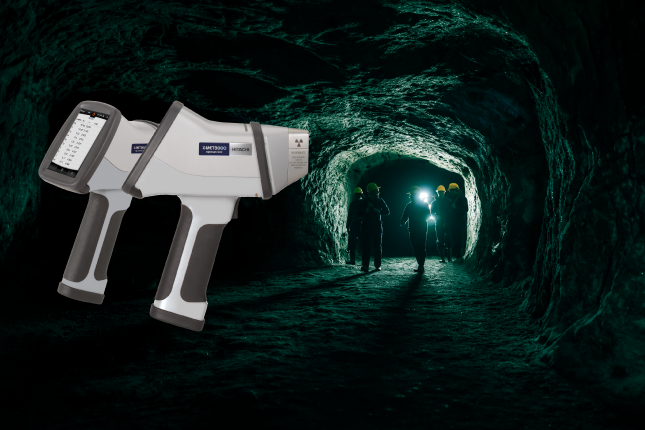 X-MET8000 Optimum Geo – what's new
The X-MET8000 Optimum Geo joins the X-MET range of handheld XRF analysers, which are used by thousands of companies worldwide.
You'll get unbeatable price-performance ratio with a rapid ROI through immediate on-site decision-making whether at a construction site, in a mine or out in the field. Without the delay and costs of laboratory testing, projects are more likely to stay within budget and on time.
The X-MET8000 Optimum Geo gives you flexibility to choose a calibration package that suits your needs. On top of either the soil or mining calibration, you can add alloy, precious metal or coating thickness calibrations to ensure you maximise the use you get from the analyser.
Featuring a 10mm2 SDD detector, it gives you results you can trust for an element range from Mg to U. It has a 45kV Rh-tube to excite heavy metals, so you'll get better results for the likes of cadmium than with a 40kV X-ray tube. The shield window gives you protection against detector window damage.
Get the same benefits as X-MET Expert Geo
You'll also get many benefits and features already available with the X-MET8000 Expert Geo, which is already part of the range, like the revolutionary BOOST™ technology. This delivers the low limits of detection to measure critical elements (e.g. US EPA method 62000 PRCA and priority elements) accurately.
When investigating, assessing or monitoring geochemical elements, the built-in GPS and compatibility with Trimble ® receivers allows you to combine location coordinates with results for professional site mapping, with photographs.
You can share the results on-the-go with our ExTOPE Connect mobile app and our cloud service enables you to export results securely in real-time with photographs, notes and GPS coordinates. You can even manage results from a whole fleet of X-METs with a single account.
Part of the popular and trusted X-MET range
You'll also get the same benefits and features of the full X-MET8000 range. Light, weighing only 1.5kg, comfortable and portable so can easily be used on-site with a 10-12 battery life. They're fast too, with a "point and shoot" functionality that displays results clearly in seconds. With a fast start-up time, X-MET's are ready to go in 20 seconds.
The robust X-MET8000 design remains the same with the new model and you'll get the same benefits as with any of our X-MET products:
IP54 equivalent - splash water and dust proof, ideal for harsh environments.
MIL-STD-810G compliant - drop and vibration tested it for heavy use.
An easy swap window, so no tools needed to change it.
Large heat sink means the operating temperature range is from -10C to +50C.
---
Hitachi X-MET8000 Optimum Geo – available now
The accessible X-MET8000 Optimum Geo offers you and your stakeholders rapid ROI and informed decision-making. It's a new product backed by 45 years of expertise. Contact us for a quote or to book a demonstration so you can discover the benefits for yourself.
---
Share this blog