Manufacturers and blenders of lubricating oils have stringent product specifications to meet, and e.g test for viscosity, specific gravity and flash point of the final product. Introducing elemental analysis during the blending process helps to ensure consistent quality.
Energy Dispersive X-Ray Fluorescence, or EDXRF, is the ideal analysis technique as it is fast, accurate, completely non-destructive, and can be used to test for a wide range of elements. The technique will tell you very quickly which elements are present in the sample, and by using a calibration, you can find out how much of an element is present. Typically, XRF analysis will detect elements from sodium to uranium in gas, liquid and solid form. For lube oil analysis, elements measured typically include: magnesium, phosphorus, sulfur, chlorine, calcium, zinc and molybdenum. The very high accuracy and low detection limits of the technique means that even trace elements in the ppm range can be measured.
Engine Condition Monitoring
XRF analysis can also be used to check lubricating oil after use. This can give you information on the condition of the engine. By comparing the used oil analysis with new oil of identical type, you can easily identify new elements within the mix. The type of elements can help identify whether the oil has started to break down, or whether it's the engine itself that has started to wear.
And manufacturers of lube oil can use XRF analysis in their own research and development department when testing new additives packages.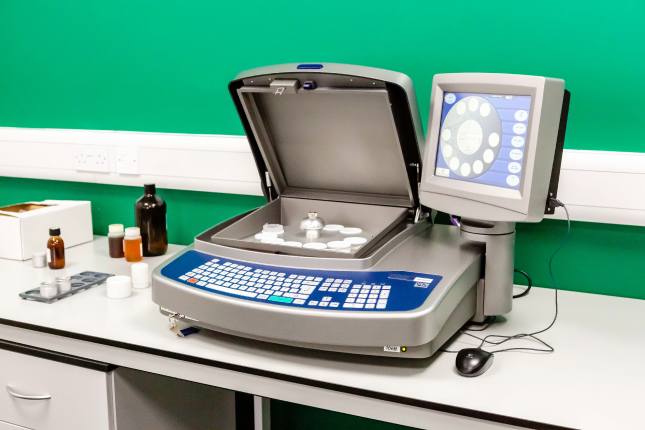 Benchtop XRF analyzers for lube oil analysis
Hitachi's range of benchtop XRF analyzers is ideal for testing lube oil both during blending and for subsequent analysis after use. Rugged in design, they combine high performance with the ability to withstand harsh production environments.
All our equipment is designed to be easy to use. There is very little sample preparation needed; simply pour a small amount of the oil to be tested into a sample cup and place it inside the analyzer. Press a button to start the measurement and results are available within minutes. They are displayed on the integrated screen, and a simple pass or fail option can be set up to make the procedure easy.
All results are stored within the equipment, and many of our models have advanced data management built-in. These connect to our ExTOPE connect cloud for easy storage and access of analysis data by production batch. This is especially useful for date traceability and reporting.
---
Our analyzers comply with standard test methods for lubricating oil:
ASTM D6481: Standard test method for determination of phosphorus, sulfur, calcium, and zinc in lubrication oils by energy dispersive X-ray fluorescence spectroscopy.
ASTM D7751: Standard Test Method for Determination of Additive Elements in Lubricating Oils by EDXRF Analysis.
ASTM D6481
ASTM D7751
---
For more information on how XRF can be used to control additive levels and trace elements in lubricating oils, please contact one of our experts.
Our benchtop XRF analyzer ranges are the X-Supreme8000 and LAB-X5000: you can find detailed information on both of these here:
Find out more
---
Share this blog