Every week, I get at least two calls from people asking me about in-house XRF testing of their PCB components. Usually, they are using a third-party company to do the measurement and want to understand the implications of switching. Their questions are usually around two major points: can I do it and where do I start. Broadly speaking, this is what I usually say to them.
Advantages of in-house XRF testing
Let's park the biggest questions for now (I'll talk about those later) and assume that everything is equal and you can perform the XRF measurements as well as your outsourced third party. Bringing the process in-house gives you some clear benefits:
You save time
This one is pretty obvious, but if you don't have to ship your products to another company, wait for them to make the measurement, and wait for their return, you save a lot of time. Now, taking an XRF measurement does take a little time, but we're talking minutes, not days. You can shave a lot off your standard production time by keeping everything in-house.
Easier to ship on time
This is related to saving time; if your process takes less time, you can ship sooner. But it's also about control. When you rely on a third party for some of your processes, you do have to fit with their schedule to a certain extent. I'm sure that testing labs are professional and meet their deadlines, but like all of us, they are going to have to extend their lead times when they get busy. Keeping your processes in-house means you can ship on your schedule.
Fix problems more quickly
XRF measurements can tell you very quickly if there's something wrong with your processes, or even your base material. Waiting until you hear this from your testing company, then working back to try to identify the issue prolongs the problem. While it might still be a challenge to bring your processes back into line, if you can take measurements in-house you can find the root cause much more quickly and get back to business as usual.
Keep documentation up-to-date
Professional testing labs do a great job of sending on results and tracking the right measurements to the right batch of samples. However, if you are measuring in-house you can control this process. You could even automate a lot of the record keeping to make sure that documents are updated as soon as the measurement is made. This makes life a lot simpler at audit time.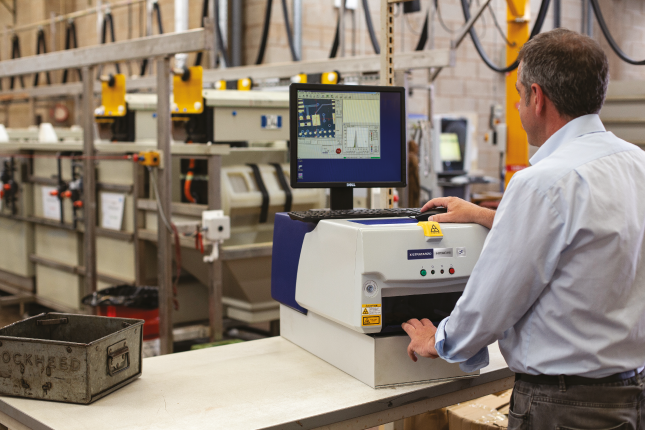 Can you take accurate measurements in-house?
The short answer is yes, you can. Now, of course I'm biased, but Hitachi's equipment is very easy to use by people without specialist skills. Operators might need a little bit of training to get them up to speed with how to use the kit, but they absolutely don't need to be XRF specialists. Much of our equipment comes with the right calibration for the type of measurement you need to take, and we give training and can help you make sure everything's set up right. And you don't have to worry about putting our instruments into a production environment; our products are rugged on the outside and made to cope with the real world.
What about the cost?
Sometimes outsourcing is about reducing capital expenditure. To help, we have leasing options, with support packages to help you spread the cost if that's what you need to do. It also means you can try out a bit of kit before committing.
---
How to change from outsourcing to in-house?
We can help you get up and running in-house. This is something that I do for my customers all the time. We'll help you get up and running, make sure the equipment is working and accurate, give training to everyone who'll need it, and make sure you are producing the documentation you need to for traceability.
To discuss your options for your own outsourced XRF measurements, get in touch with one of our experts. You can get information on our products here.
Find out more
---
Share this blog