Managing ageing plants is an issue affecting operators all over the world. The total annual cost of dealing with corrosion in the US oil and gas industry is estimated to be $1.372 billion while in Europe, 50% of major hazard "loss of containment" events are caused by ageing plant mechanisms.
Plants built 20-30 years ago are beginning to reach the end of their scheduled operational lifetimes. 2017 saw 34 US nuclear reactors reach the end of their lifespan, and with the sector accounting for a fifth of power generation in the country, increasing shutdowns could have significant effects. As significant amount of the equipment used across petrochemical, refinery and power plants is ageing, old components are much more likely to suffer degradation from corrosion, erosion and fatigue and could create dangerous and costly failures.
When we talk about ageing plants, we are not just talking about the age of plants and components. Equally important is being able to effectively monitor how systems change over time. System critical components are placed under a lot of stress, and any deterioration or damage can lead to failures that endanger workers as well as the entire operation.
Positive Material Identification (PMI) is the optimum inspection solution for accurately and reliably monitoring the quality and continued health of system critical components.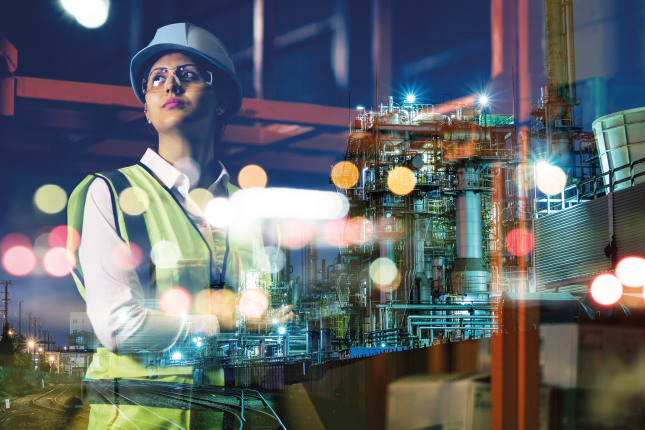 Increasing operational lifespans
The management of the physical assets, properties, equipment and inventories, that are essential for the safe and compliant operation of a plant involves careful trade-offs between performance, cost and risk. This is especially true in a system that is a few decades old. Maintenance is essential, but being too reactive will result in large amounts of unscheduled downtime and could eat into the operation's profitability.
PMI inspection analysers, particularly handheld and portable devices, can test a wide range of materials in order to see whether their chemical composition is right for the job, and whether they are holding up over time. It's important to be able to test all of the materials used, including composites. While composites do tend to be resistant to corrosion, they still suffer from physical, chemical and mechanical ageing.
Portable PMI analysers are lightweight enough to be able to go to the components, wherever they are located. XRF and LIBS in particular can be used without halting operations. OES may require a halt in operations, but Hitachi's PMI-MASTER Smart has fast start-up and measurement times so that disruption is minimised. With long battery lives lasting up to 12 hours, hundreds of measurements can be taken in a single session.
Decommissioning
Another key part of the equation is safe and compliant decommissioning of sites that are being shut down. PMI provides an effective solution to this process in two important ways.
Firstly, fast and accurate metal analysis is needed in order to determine the right price of scrap. This is a job that can be done by any of the three Hitachi High-Tech PMI analysers, the PMI-MASTER Smart (OES), X-MET8000 (XRF) and Vulcan (LIBS).
Secondly, it's important to check for mercury and hazardous elements like lead, cadmium and other heavy metals on decommissioned petrochemical sites, in order to make sure that workers are operating in a safe environment. XRF is a proven, non-destructive technique for telling operators whether hazardous elements are present in a working environment. The X-MET8000 is handheld analyser, with a simple 'point and shoot' operation, and reliable alloy grade identification and chemistry in seconds. Its robust design means that it, along with the Vulcan, can operate in the most demanding of environments.
Creating safe and efficient plants
PMI is the optimum inspection solution for plant operators looking to proactively manage ageing assets and ensure continued productivity and safety. Hitachi High-Tech can provide a PMI solution for every situation. With over 45 years of experience providing plant operators with cutting-edge analysers, our solutions are tailored to the evolving needs of industry.
---
To learn more about the Hitachi High-Tech range of PMI analysers or book a demo, talk to a member of our team today.
Find out more
---
Share this blog