Milk powder is produced by removing water from liquid milk through evaporation then spray drying. This increases the milk product's shelf life by several months, and decreases storage and distribution costs. More than 8 million tonnes of powdered milk are produced worldwide annually for a variety of food products, such as infant formulas, confectionaries, sports and nutrition foods. To ensure the product meets specification and quality, the composition of the powders is tightly monitored. This is usually done in a laboratory with inductively coupled plasma spectrometry-atomic emission spectrometry (ICP-AES), involving lengthy chemical preparation stages that demand a high degree of skill. Alternatively, X-ray fluorescence (XRF) spectrometry can be used, requiring simpler and quicker sample preparation steps, while delivering results in few minutes.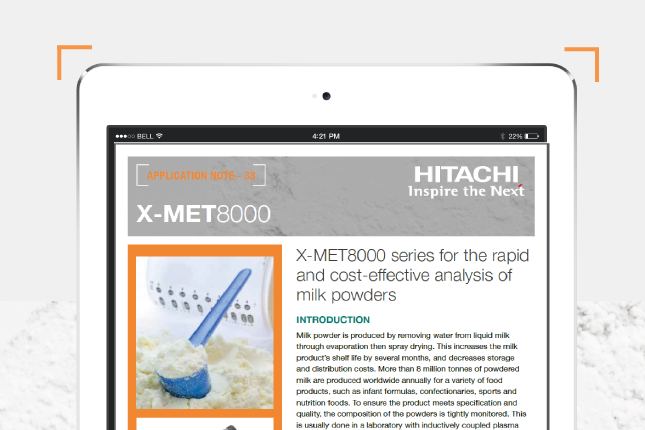 Recent advances in XRF technology now allow plants to use small, field-portable analysers to check mineral nutrient contents in milk powders at the production line.
Hitachi High-Tech's latest handheld XRF analyzer, the X-MET8000, is a cost-effective, rugged and easy-to-use instrument that fits perfectly in a quality control process, delivering excellent performance for the rapid determination of P, Cl, K, Ca, Mn, Fe, Cu and Zn in milk powders.
---
Download our Application Note to find out more.
---
Share this blog
Date: 7 September 2018
Author: Christelle Petiot, Product Manager, Handheld XRF