The last decade has seen data emerge as a key resource for businesses. Advances in connectivity and storage technology mean that organisations now have access to a range of operational data. This makes effective data management of central importance to modern industry. For organisations that rely on analysis, measurement and equipment data to operate, the inability to collect, store and manage this data effectively can quickly lead to inefficiencies.
Hitachi High-Tech's ExTOPE Connect is an advanced data management and storage solution for our Vulcan and X-MET handheld analyzers, and LAB-X5000 benchtop analyzer that brings greater efficiency in the sharing and storing of analytical information taken in the field or production site.
Smart instruments, smart service
Connecting users to their equipment through a secure and reliable cloud-based network has a number of strategic advantages. ExTOPE Connect establishes a central location for all data from your entire fleet of analyzers, updated in real time and readily accessible, delivering a significant boost to operational efficiency.
While data management is often a key concern for our customers, it can also quickly turn into a resource sinkhole. ExTOPE Connect creates a simple and effective foundation upon which companies can begin extracting value quickly.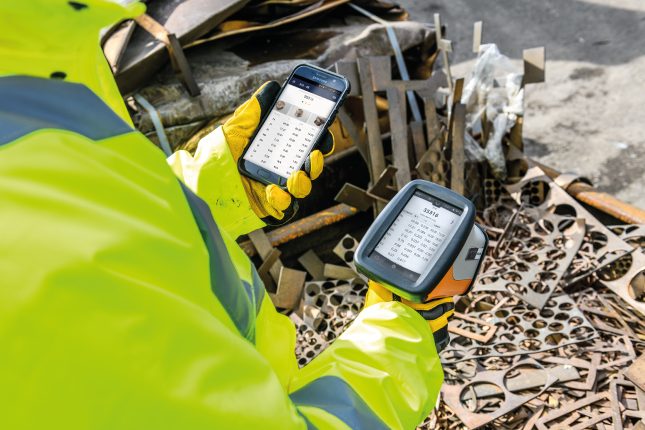 Here's what our new data management service provides.
1) Data security
One of the principal benefits of the ExTOPE Connect cloud service is taking the burden of data security away from customers. The data recorded on the X-MET, Vulcan or LAB-X 5000 is uploaded to the cloud either directly from the device. With Vulcan and X-MET handheld analyzers it's also possible to connect via the iOS or Android app. Our cloud network was designed with security and governance at its core, and is rigorously tested to ensure it's of the highest quality.
By storing data on our secure cloud, customers can reduce the operational costs of upgrading and protecting their systems. Without having to worry whether critical data is safe, more resources can be devoted to using it and driving productivity.
2) Easy documentation
ExTOPE Connect allows users to create reports directly from the cloud, which can then be shared via email or instant messaging to all interested parties. Unlimited free data storage and automatic back-ups also mean that historical analyser data will always be accessible. When the handheld instruments are connected to a mobile phone app, it's also possible to attach photos to measurement results, including when sharing the results.
One of our customers has used this functionality to increase the efficiency of their positive material identification (PMI) process. They use several handheld analyzers to monitor the quality of incoming materials by performing on-site analysis and taking photos of the samples on their phone before adding them to the measurement data and transferring it to the cloud. The full report, including photographic support, can now be accessed by anyone that needs to see it, from quality managers to third-party inspectors alike.
3) Real-time data sharing
Being able to share data quickly is not just important within an organisation, it can also be a crucial part of the sales process. The data from the Vulcan and X-MET handheld analyzers stored on ExTOPE Connect mobile app can be shared instantly via text, email or even WhatsApp.
A customer of ours operates a scrapyard, taking in and selling a range of materials every day. Once they have accurately sorted and categorised a batch of mixed materials with one of our analysers, they take a photo using a mobile phone. The analysis data and photos can be bundled together on the ExTOPE app and sent to potential buyers immediately, showing them the material for sale alongside the accurate chemical composition and grade identification. This fast contact between sellers and potential buyers can increase throughput and quickly add value to operations.
4) Centralised control
Without an easy-to-use and effective system of centralised data management in place, companies face major challenges in maintaining operational efficiency across remote locations and keeping track of exactly how equipment is being used.
ExTOPE Connect provides a cost-effective solution to both these problems. Measurement data can be shared across geographically remote locations, ensuring that company-wide measurement, analysis and evaluation is simpler and quicker.
A practical application of this technology is helping shipping operators to monitor the sulphur content of the marine fuel they are using across their fleet. The data recorded by X-MET handheld analyzer or LAB-X5000 benchtop analyzer can be sent to a central location directly from each vessel, creating a simple way to ensure and demonstrate compliance across a complex operation.
ExTOPE Connect is one of the most advanced data management and storage solutions available. With over 40 years of providing cutting-edge solutions and services to our customers, we understand your pain points and know what weighs you down. As data management continues to evolve, we equally constantly evolve our products and services to help our customer's future proof their operations and add value.
See what ExTOPE Connect can do for your operations by activating your account today or contact a member of our team to book a demo of one of our handheld analysers.
Find out more
---
Share this blog