You may still find that drilling or excavation control on-site requires you to send samples for laboratory analysis, with results taking days to come back. But what if you were able to reduce the number of samples sent to a laboratory and achieve significant cost savings at the same time?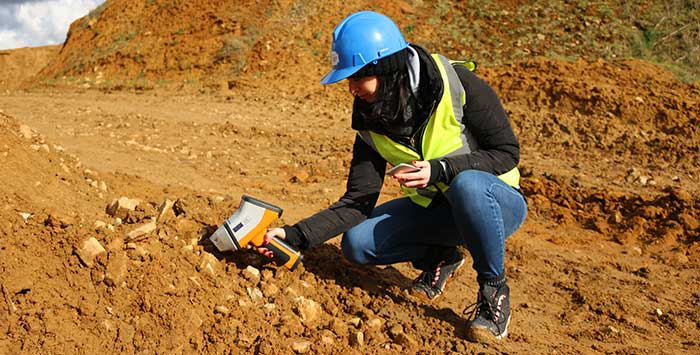 Here's our guide on how our X-MET8000 Expert Geo handheld analyser could help you:
1) Measure up to 40 elements in real time on-site
X-MET8000 Expert Geo analyser can be used for geochemistry applications including on-site environmental screening, mining exploration, planning and grade control. It can measure up to 40 elements, with additional elements available on request.
2) Results on the go
Complete testing programs faster and rely less on laboratory analysis as X-MET8000 offers results in seconds with real time data sharing for fast decision making. Over 100,000 results can be stored in the analyser, downloaded to a USB or PC in CSV format or PDF whilst fully customised reports can also be created. Sharing results on-the-go with colleagues and clients is easy with the OiConnect app.
3) Reliability even in the harshest environments and weather conditions
The analyser is rugged and IP54 rated (dust and splash water proof), so can confidently be used indoors and outdoors, even in hot environments. Downtime is minimal as it is ready to analyse in just 20 seconds from start up. With a long battery life (up 10-12 hours), you can work all day on a single battery charge.
4) Save time and money
Saving time is a good thing, and time is money. X-MET8000 Expert Geo reduces the need for laboratory analyses and their associated costs. As it's quick to use, you can carry out high volumes of analyses and complete testing programs quickly.
5) For now and the future
The BOOST™ technology used in X-MET8000 Expert Geo delivers up to 10 times the sensitivity of other handheld XRF models, ensuring performance today and in the future, especially as ore grades quality decreases.
Find out more
---
Share this blog