Quality Magazine Webinar: Make the transition to 100% PMI without adding a significant cost to your business
Tuesday, March 26 at 2:00 PM EDT
Material mix-ups, caused by mixed/mixed up, lost or even forged certificates and stamps on incoming materials are an unfortunate reality in manufacturing operations. Today's manufacturers are trending toward 100% PMI for reassurance and because of the need to protect their company's reputation.
Adopting 100% PMI means that you go from testing a handful of samples to making hundreds or even thousands of measurements every day.
Your first thought might be that it's too costly to hire additional people and it would add time to your production process. However, this doesn't have to be the case. This webinar will help you to:
Highlights
Understand how to be ready for 100% PMI
Demonstrate how intelligent operations can allow productivity gains, and decrease material and certification mix-ups
Learn how modern data management tools are essential for 100% PMI
Discover how simply changing your analyzer could be the answer without increasing headcount
---
Presenter: Jordan Rose
Jordan Rose is the Applications Lab Manager for Americas and has been with Hitachi High-Tech Analytical Science for over 7 years. Jordan's technical expertise in XRF, OES and LIBS comes from his extensive experience working in several roles at Hitachi High-Tech, ranging from technical support to performing equipment installations.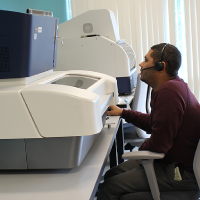 ---